Dell Mini 10 Netbook Shows up on Dell Site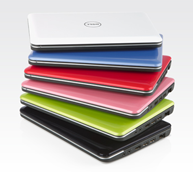 Those interested in the Dell Mini 10 Netbook can now head over to the Dell site to scope it out ahead of the February 26th release. There are options (WiFi flavors, processor speeds, battery size, 3G card, etc..) and lots of pretty colors to look at and choose from.
There's also a Coming Soon section that points to future HD capabilities, larger storage, GPS options, more designs, and a digital TV Tuner.