Dell Planning Windows RT Tablet for October Launch?
We know Dell will have a number of PCs ready for the Windows 8 release later this year from simple intuition, and now we know the company is also planning at least one Windows RT tablet.
According to Neowin Dell is preparing a Windows RT tablet for release in mid-October. The company is having trouble getting RT running on a production model for unspecified reasons, but that won't delay the plans it seems. The is a chance Dell will market the RT tablet more to the enterprise, but we don't know for sure.
If the October release target does work for Dell, the tablet will arrive on the market around the same time as the company's Windows 8 tablets.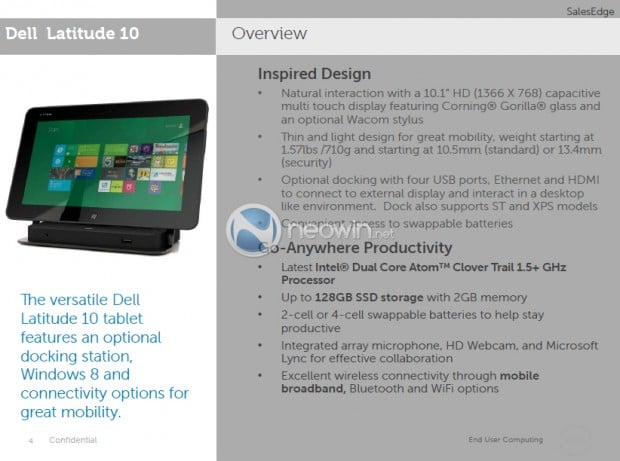 Dell is planning a new Latitude 10 tablet for the Windows 8 release later this year. The tablet will use an Intel Atom CPU and feature a 10.3-inch Gorilla Glass display. The tablet will also feature 128GB of SSD storage, a 2- or 4-cell swappable battery, HD webcam, and wireless radios for WiFi and Bluetooth.
The Latitude 10 will also have an option docking station with four USB ports, Ethernet, HDMI port, "broadband connectivity," and a stylus.
Unfortunately without any word from Microsoft we don't know when these new devices will come to market. The leaked Dell slides say October or November, which is also what we've assumed so far. We hope Microsoft will Microsoft will make a release announcement in the near future so we know when we'll be able to use these tablets or other devices like the Asus Taichi or Lenovo Yoga.