Dell Releases the Adamo at $1999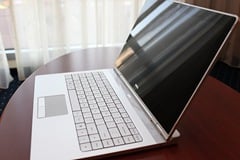 I guess Dell is banking on Luxury selling as they release the eagerly anticipated Adamo Notebook today. At a price of $1,999 I think it is a gamble. Both Brian Solis of PR 2.0 grabbed some pictures of the new machine at SXSW and posted them up, and the folks at Crave have a hands on report of a pre-production model.
The Adamo sounds very ""Apple" like in terms of being thin and light with a unibody construction. In fact Dell is touting it as the thinnest laptop in the world. The majority of the ports are on the rear of the notebook and they include 2 USB ports, a USB/eSATA port, Ethernet, and a DisplayPort video jack. On the right side there is a user-accessible SIM card slot and audio ports. Resolution on the glossy (and according to Crave glare inducing) screen is 1366×768. The Adamo is running an Intel Core 2 Duo u9300 at 1.2GHz, and the unit reviewed at 2GB of RAM and a 64G SSD. Crave states that they believe a 128GB SSD will be standard on the shipping units.