Dell Venue 11 Pro now available
Microsoft Surface Pro 2 and Surface 2 have enjoyed about a month as the top of the lists made by users looking for a Windows tablet that is capable of running traditional Desktop applications, but not anymore. Starting today these users can also purchase the Dell Venue 11 Pro for $499.99 online.
Users can purchase the Dell Venue 11 Pro from Dell's website today in a couple of different configurations. The base model starts at $499 and includes a 2.4GHz quad-core Intel Atom Processor, 2GB of RAM, 64GB of on-board storage and an 8-inch IPS display.
Dell is billing the Venue 11 Pro as the only device people need in their daily life. Users can supplement their experience with a desktop dock, a stylus and a keyboard attachment for users who prefer to have home, desktop and mobile setups. Unfortunately, Dell doesn't provide any of these accessories out of the box.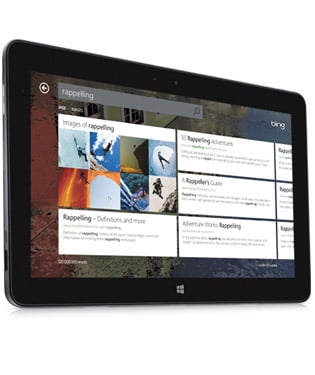 Those who need a tablet with a bit more muscle can opt for a version of the Venue 11 Pro's more expensive configuration. That version of the of the tablet includes a larger 10.8-inch display with a resolution of 1920 x 1080 pixels, an Intel Core i5 processor. Up to 256GB of storage, an 8 megapixel camera, a swappable battery and USB 3.0 and HDMI Ports. That version could run users as high as $800 to $850 dollars. Pricing for it depends how much storage users want and if LTE compatibility is a big concern.
Read: Dell Venue 11 Pro Tablets Take on the Surface 2, Surface Pro 2 This Holiday
All told, Dell's XPS 11 Pro absolutely beats Microsoft's own Surface Pro 2 in terms of pricing and range of available configurations. While Microsoft has added new configurations for the Surface Pro, it hasn't introduced a low-end model using an Intel processor. Instead, its Surface 2 uses an NVIDIA Tegra processor and Windows RT. That means that Surface 2 users can install applications outside of Microsoft's Windows Store. Like the Surface RT, the entry-level Dell Venue 11 Pro does include a copy of Microsoft's Office suite of productivity applications.
Dell says that users who order any configuration of the device shouldn't expect it to arrive on their door step before December. Dell won't begin shipping the device to users until December 5th.

This article may contain affiliate links. Click here for more details.