The Dell Venue 11 Pro is a business-friendly Windows 8.1 tablet, but there's more to this 10.8-inch slab of glass than meets the eyes. Through several optional accessories, the Dell Venue 11 Pro can wear many hats and is equally adept at home docked as a desktop replacement or can be a productivity work house with several different style of keyboard docks.
This 3-in-1 form factor, as Dell is promoting the Venue 11 Pro, makes this tablet very friendly as the single computing device you own, spanning tablet, desktop, and laptop or Ultrabook form factors.
Sounds familiar? It should. The Venue 11 Pro is a direct jab at Microsoft's Surface Pro 2, and both tablets are aimed at the prosumer market who demand powerful specs in a highly mobile package. Where the Venue 11 Pro really shines is it's entry level price: $499 versus $899 for the Microsoft counterpart.
For roughly half the price, you'll make some trade-offs, however, as the Venue 11 Pro starts with a quad-core Intel Atom Bay Trail processor, rather than the Intel Haswell Core i5 configurations on the Surface Pro 2; the Venue Pro 11 can be configured with up to a Haswell i5 as well, though doing so would increase the price as well.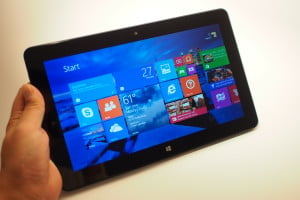 Despite the similarities between the Venue 11 Pro and the Surface Pro 2–both tablets share very similar hardware accessories that expand the functionality of the slates–there are some notable differences. Whereas Microsoft focused on crafting a handsome exterior with a unibody Vapor Magnesium shell, Dell chose functionality over form. This isn't to say that the plastic build of the Venue 11 Pro is bad–it's a solid slab of plastic–it just doesn't feel as elegant as the Surface Pro 2 to hold. Additionally, Dell also sacrificed the new two-stage kickstand on the Surface Pro 2, so you can't readily just plop it into stand mode on your desk without purchasing a case or stand.
The Venue 11 Pro's plastic build allowed Dell to offer several features not found on the Surface Pro 2.
First, a soft touch coat of paint makes the Venue 11 Pro more comfortable to hold and the tablet doesn't feel as slippery. And unlike the Surface series, when the Venue 11 Pro is first turned on, it also doesn't feel too cold to hold especially in colder winter months.
Second, choosing plastic over metal allowed Dell to reduce the weight of its 10.8-inch slate. Rather than a 2-pound Surface Pro 2 weight, the Venue 11 Pro clocks in at just 1.57 pounds, making it more comfortable to hold for longer durations as a tablet. In fact, the weight itself makes it just marginally heavier than Apple's first-generation iPad tablet.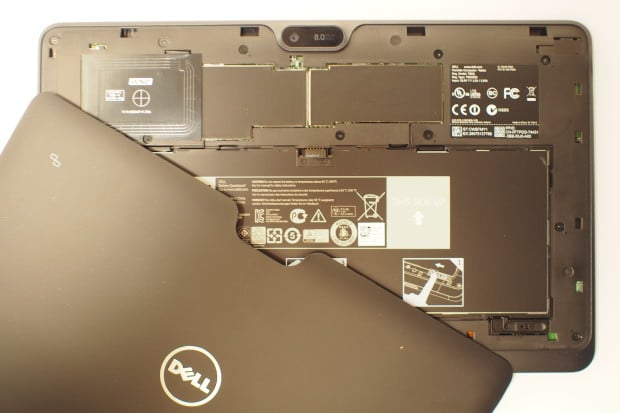 And lastly, Dell is offering consumers access to the battery. Removing the back battery panel by pulling up from the notch, you can replace or service your own battery, great for swapping out dead batteries for fresh ones when you're out working in the field and are away from a source of power for long periods of time.
For OCD users, the soft coat finish makes the Dell Venue 11 Pro smudge-proof, unlike the fingerprint magnet that's the Surface Pro 2.
Additionally, though the Venue 11 Pro has a detailed 1080p display, Dell did cut a few corners with the screen. The Venue 11 Pro's screen did not look as bright as on a few competing tablets, like the Surface Pro 2, so you'll find yourself straining at times depending on the ambient light level around you to get a good look at the screen.
That's not to say the full HD panel is bad–it's just that the screen could use more brightness. Still, Dell did use an IPS display, so this means that viewing angles are generally good on the Venue 11 Pro.
The biggest thing about the Venue 11 Pro's touchscreen is that it can sometimes become non-responsive, requiring a full reboot to get things functional again. These incidents were rather infrequent, though.
Internally, the model that we're reviewing comes with the quad-core Bay Trail Atom processor. This places the Venue 11 Pro right between Microsoft's Surface 2 and the Surface Pro 2. Whereas the ARM-powered Surface 2 can only handle Office for RT as well as applications found on the Windows Store, the Intel-powered chips on the Venue 11 Pro and Surface Pro 2 gives users access to a wealth of Windows programs that were compiled for Windows 7 or earlier. Theoretically, this means you can run Adobe Photoshop, Microsoft Office, Adobe Creative Suite, and other titles not available for the Metro UI-styled apps of the Windows Store.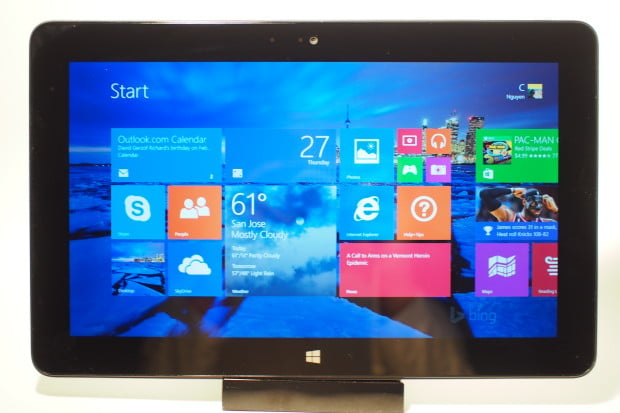 And even though the Atom-based Dell Venue 11 Pro could run Adobe Photoshop, you likely wouldn't want to so. The system is still limited to 2 GB of RAM and Intel's integrated graphics. However, for a quick edit in a pinch, the Venue 11 Pro's Atom configuration could deliver. I was able to stream a full HD iTunes movie from my account while running Chrome, Internet Explorer, a chat app, and some other background tasks without any issues.
In short, performance for Intel's Atom series of processors has improved remarkably since they first debuted for low-cost netbooks. And for most computing tasks, this year's quad-core Bay Trail has enough oomph to rev up the Venue 11 Pro's engines.
The Atom chipset does a fantastic job balancing performance and battery life. The Venue 11 Pro generally can last between 7 hours and 8:30 hours on a single charge. This is very competitive with Apple's iPad Air and with many of the Android tablets on the market today. With the optional laptop dock, battery life is about double.
From the perspective of a tablet, the Dell Venue 11 Pro has an abundance of ports. You have a micro USB port that's used for charging the tablet so no bulky proprietary power brick is required. Additionally, there  is a full-size USB 3.0 port, mini HDMI port, and a 3.5 mm headphone jack.
Side-blasting stereo speakers flank either side of the tablet in landscape mode and a magnetic dock connector is found on the bottom where the tablet can dock into the slim laptop dock, the regular powered laptop dock, or a powered laptop dock.
Those who rely on drawing, handwriting, or doodling will be happy to know that Dell also sells a $29 active digitizing pen. However, the happiness will quickly wane as performance for Dell's pen isn't quite on par yet with the N-Trig pens used by Sony or the Wacom-based pens adopted by Microsoft and Samsung. Though the Dell pen will work fine in a pinch, it was a little slow and unresponsive for anything more than a quick jot. Hopefully, Dell will continue to optimize pen performance through further firmware patches.
The interesting thing is that even though you can increase the storage card size of the Dell Venue 11 Pro with a micro SDXC card–SanDisk recently announced a 128 GB card capacity at Mobile World Congress–the slot itself isn't easily accessible. Like the SIM card tray on Apple's iPhone, you need a pin or an ejector tool to remove the tray and insert or swap out microSD cards.
The Dell Venue 11 Pro also has a 2-megapixel full HD front-facing camera for Skype and other video calls. The rear camera is an 8-megapixel one.
From a software perspective, Dell did a fantastic job in keeping pre-installed software to a minimum. Unlike the Dell Venue 8 Pro, which we had previously reviewed, the Venue 11 Pro doesn't come with a license for Microsoft Office, so you'll have to shell out money to partake in Microsoft's productivity suite. The usual bundled Windows apps are installed out of the box–like Skype, SkyDrive, Bing News, and basic PIM apps like Mail, Calendar, and People.
Dell did include a few utilities that help to optimize the Venue 11 Pro. A Dell Backup and Recovery tool does exactly what its name says and Dell's Power Management tool helps you choose between more power, more battery life, or a more balanced performance.
Conclusion
At $500, the Dell Venue 11 Pro seems like a steal, but once you start to pack in more accessories, like the $130 MSRP Slim Tablet keyboard (the equivalent of the Surface Pro 2's Touch 2 Cover) or the $160 MSRP Tablet Keyboard (the equivalent of the Surface Pro 2's Type Cover but with added battery life and more ports), the configurations start to get expensive and into entry-level Ultrabook categories. And even though you may not get Surface Pro 2-level performance at $500, the Atom Venue 11 Pro is still powerful and affordable while delivering remarkable versatility with great battery life.
However, for consumers interested in a Bay Trail processor, there may be more affordable options, like ASUS' Transformer Book T100, a tablet that comes with its own keyboard dock to convert it to Ultrabook form factor at $400 inclusive. Though the T100 may not have Dell's business class battery swapping capabilities, it may be a cheaper alternative for consumers in a crowded convertible space.
What Dell and its PC rivals are showing with tablets like the Venue 11 Pro is that Windows slates can deliver great performance without the hefty price tags thanks to Intel's latest Atom CPUs. We were very pleasantly surprised with how well the Bay Trail CPU handled on the Venue 8 Pro and Dell is looking to repeat that success with similar specs but on a larger screen with the Venue 11 Pro, and that's where the real value of the Venue 11 Pro is at.