Dell Venue 8 Pro Windows Tablet Review: A Small Tablet That Can Be a Grown Up PC
With 8 inches of Windows 8.1, the Dell Venue 8 Pro is a portable productivity powerhouse. Unlike Microsoft's own Surface 2, the Dell Venue 8 Pro is both smaller and lighter while at the same time more powerful as it is based on Intel's x86-based quad-core Atom processor, which allows the tablet to run the full version of Windows, compared to the ARM-based Windows RT power of the Surface 2. This means that the Venue 8 Pro can theoretically handle more complex games and legacy programs such as the Adobe Creative Suite and Photoshop titles. But does this 8-inch powerhouse have what it takes to replace your laptop while on the go, and does the 8-inch slate come with the versatility to stand in as your desktop PC when you need it? Read on as we find out.
Hardware
The Venue 8 Pro has a more unassuming design, and at first glance, you'll probably mistake the tablet for any number of Android tablets on the market today, especially the basic black variant that we're reviewing though the slate also comes in a bolder red hue. The tablet's front is simple with a black slab appearance. Thinner side bezels and a front-oriented camera marks the camera's front surface, not unlike Google's 7-inch Nexus 7 refresh this year.
Under the hood though, the Venue 8 Pro isn't just a consumder tablet. It's a productivity powerhouse that runs Microsoft's latest Windows 8.1 operating system (a free upgrade from the Windows 8 that ships on the Venue 8 Pro out of the box) and offers a lot of powerful thanks to a quad-core Atom CPU, 2 GB of RAM, WiFi and Bluetooth connectivity, along with support for an optional digitizing stylus.
For a Windows-based device, the design is a little curious as the Windows button is no where to be found on the front of the tablet. Dell had moved the button's position to the top edge on the right side. It's not a bad design as it keeps the front surface clean, and unlike the capacitive touch Windows button on some competing slates, the button's design actually helps prevent accidental presses of the button when you're holding and gripping the tablet, something that was easy to do on the Lumia 2520 Windows RT tablet when I held it in portrait orientation given the positioning of the capacitive button.
On the right edge, you have room for a micro USB port, the power button, and the volume rocker. Additionally, a rubber flap hides the micro SDXC card slot. The Dell Venue 8 Pro will be available in either 32 ($300) or 64 GB ($350)configurations, and the memory card allows you to add another 64 GB to top off at 128 GB of storage at maximum.
On the bottom edge, you have a single, mono speaker that gets pretty loud, but a little bit of crackling and distortion is still present at the highest volume settings.
On the back, Dell uses a soft rubberized plastic to give the slate a more premium feel, and the design helps with ergonomics as well.
The ridged, textured backing around the Dell logo on the rear makes the tablet easier to hold and less slippery when you're holding the Venue Pro 8 for long periods of time, especially if you have sweaty hands or fingers.
On the rear, you'll also find a capable, 5-megapixel camera that does the job on the fly should you need to document things on the go. For a 5-megapixel shooter, image quality was not bad and fared better than I had expected in daylight. Night photography was a bit more compromised with poorer dynamic range and the lack of a flash. There's also a front-facing camera for video chats and Skype calls.
Sample Camera Images: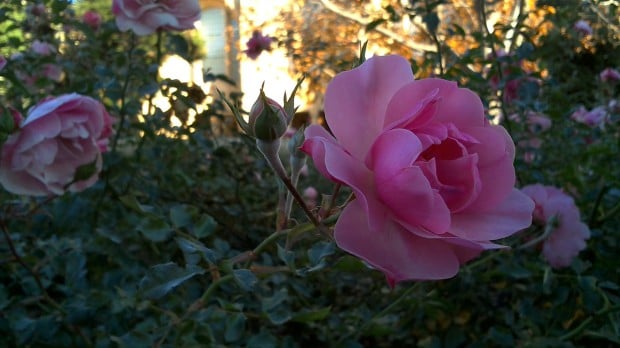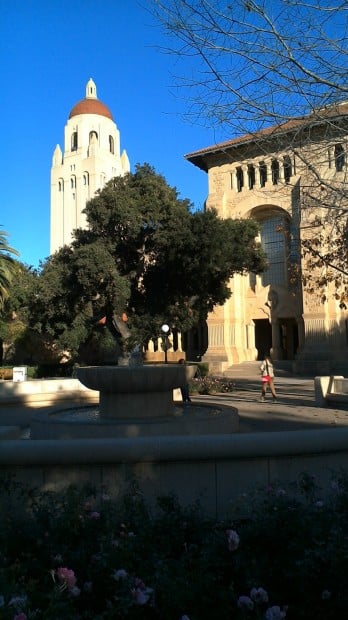 Usability
The hallmark of the Dell Venue 8 Pro isn't in its specs, though this year's quad-core Bay Trail-based Atom processor easily helps the tablet perform tasks with ease. Though it's an Atom CPU, this isn't the same Atom chipset that's found on netbooks of yore. Instead, Intel has made major improvements to helping Atom perform better–it's much more powerful–while retaining stellar battery life.
In use, there's much to love at the Venue 8 Pro. As a tablet, it's lightweight and the 8-inch 720p display is crisp and vibrant. An optional active digitizing pen brings a new dimension to the Venue 8 Pro as it allows users to more easily and accurately draw and capture handwritten notes.
In use, the digitizing technology that Dell uses for the pen works in a pinch, but it isn't as accurate nor is the pressure sensitivity as good as leading solutions on the market today, such as those from N-Trig and Wacom. Dell says the tech that it employs comes from Synaptics, maker of the touchscreen on the Venue 8 Pro, and the company advises that owners of the tablet download the pen driver update to get better accuracy before using the pen. Hopefully, Synaptics and Dell will continue to fine-tune the pen to get better accuracy as time goes on. For now, if you're a digital artist on handwritten content, the pen is usable, but a bit disappointing.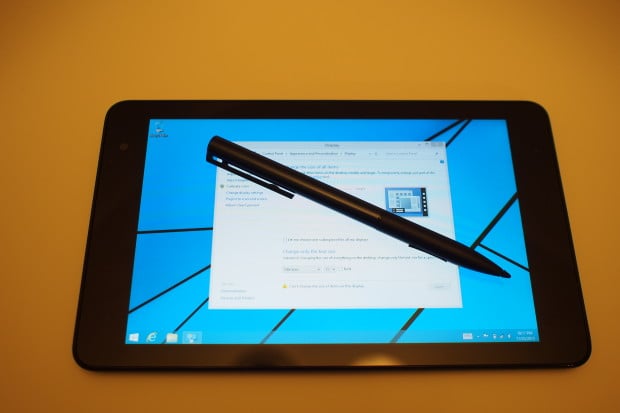 Additional accessories include a foldable folio that doubles as a stand, along with an optional wireless keyboard helps to transform the Venue 8 Pro into a netbook with a more familiar typing experience. The keyboard isn't available yet, and the prototype that we saw earlier this year shows that Dell is creating a keyboard that fits the size of the Venue 8 Pro's overall dimensions so when coupled, it's easier to take with you.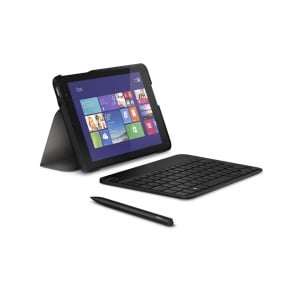 This means that the keyboard won't have full sized keys, and the overall usability will resemble the Zagg-made keyboard accessories for Apple's iPad mini. Additionally, unlike the optional Touch Cover or Type Cover for Microsoft's Surface tablets and the powered keyboard cover for Nokia's 10.1-inch Lumia 2520 tablet, the keyboard for the Dell Venue 8 Pro doesn't come with a trackpad so you won't have mouse control, unless you buy a separate Bluetooth mouse, and would need to reach for the screen to make any selections.
With options for a digitizing pen and keyboard, the Venue 8 Pro becomes a lot more versatile and is one of the most versatile Atom-based designs on the market, especially one at the smaller 8-inch form factor. With the accessories, the Venue 8 Pro cannot be matched by similar offerings from Acer, Lenovo, and Toshiba, and given that these accessories are optional, you can keep the price low if you don't need it by simply purchasing the tablet solely.
The big downside with the Venue 8 Pro is its lack of ports. Despite being able to convert the tablet into a netbook with the optional add-ons, a single micro USB port will mean that you cannot readily read USB flash drives or connect to scanners and printers on the go, unless you buy a separate micro USB on-the-go (USB OTG) cable. As a micro USB 2.0 OTG cable isn't included in the box, you'll have to find one on your own.
A problem with many of the OTG cables is that it is a single port adapter to allow you to use your USB peripherals. This will mean that if you get this type of cable, you won't be able to charge your Dell tablet at the same time while plugging in a scanner, for instance. Fortunately, though there are OTG hubs out there with extensions for a charging port on the hub as well as two or three full sized USB port, but those are more rare on the market right now and may require longer ship times from China through retailers like Amazon.
It's a similar problem that we've encountered with the Lumia 2520, and one that will likely plague other Windows tablets if their designers focus on thinness.
So while converting the portable and versatile Dell Venue 8 Pro into a netbook is very much achievable, can you do a similar transformation and turn the Dell Venue 8 Pro into a desktop workhorse? As long as you don't run extremely processor or graphics-intense software, like Adobe Premiere, Photoshop, or any number of first-person shooter games, the Dell Venue 8 Pro could be a viable desktop computer with the power of Intel's quad-core Atom processor.
In reality, it's a lot more difficult to convert the small Dell tablet into a full blown desktop-class PC. Though I was able to connect a wireless Bluetooth keyboard and mouse to the tablet, connecting a monitor is a different story given the lack of a display out port on the slate. The Venue 8 Pro comes with support for wireless display protocols such as Miracast and DisplayLink, but to use these you'll need adapters to connect existing monitors to the wireless protocol or buy new displays that come built-in with these standards. As I had neither, I wasn't able to replicate the wireless mirroring of my Venue 8 Pro's screen onto a larger office-sized 20- or 30-inch monitor.
So while the 8-inch screen is great for using the Dell Venue 8 Pro–especially with the optional wireless keyboard, which wasn't available in time for our review–on the go at a coffee shop, in meetings, or in a classroom, the smaller 8-inch screen and a lack of a wireless monitor made things feel a little cramped. However, if you really needed to, you can still run the Home and Student Edition of Microsoft's class-leading Office suite, which comes pre-loaded so you don't have to shell extra for a license.
Display
So how does Windows 8 or Windows 8.1 perform on a smaller 8-inch display? The experience isn't as bad as you'd imagine. Apps on the Metro, or Modern, UI runs smoothly and these programs are already designed for touch optimization, so you likely won't notice that much of a change.
Though the 8-inch size works well for the tablet for those who are focused on portability, and the screen is still usable outdoors and is still very usable under direct sunlight. Dell rates the 720p HD display at 400 nits of brightness, which is less bright than the Lumia 2520 that we had recently reviewed, but under direct sunlight the Dell seems brighter on maximum brightness than the Nokia, and the Venue 8 Pro's display is easier to read.
Aside from the great readability under the sun, the Dell's display is also a champ indoors and under ambient light with great viewing angles and vibrant colors thanks to the IPS technology. Unlike the first 8-inch Windows tablet, the Acer W3, this slate's display is simply gorgeous whereas the Acer's screen was almost laughable with poor viewing angles and a lot of glare.
When you move over to the classic Desktop mode, even Microsoft's Office suite is not too hard to use, and if you add the optional $30 active digitizing pen accessory, you can always tap and point with the pen for more fine-tuned control of your screen. And given that Dell is using a new digitizing tech for the Venue 8 Pro, you'll notice that the screen isn't compromised like some of the Windows tablets that support Wacom's technology; older Samsung Ativ PCs with the S Pen support had screens that were slightly less crisp and had a bit more glare than a traditional display without the digitizing layer on the screen.
The main issue that I had with the display is the auto adjustment of ambient lighting. The auto-dimming feature was a little too aggressive and when the screen is dimmed, it dimmed too much that the tablet wasn't really that useful anymore. I usually shut off the auto-brightness adjustment on the screen. Dell says that it is working on a software fix that will rectify this issue in the future.
Power
Even though the Venue 8 Pro doesn't come with a top-shelf Core i processor from Intel, the quad-core Atom CPU still delivers a lot of punch given its limitations. You likely won't want to do any complex Photoshop work on the Venue 8 Pro, but I was still able to install and load Photoshop and do a quick edit or two for making small image adjustments on the run.
On the same note, though you probably wouldn't want to play any graphics-intense games that are designed for Dell's Alienware gaming rigs, you still can load up those graphic-rich first-person shooters and play the games on the lowest settings. Startup times for more graphic-rich games as well as Photoshop was a bit slow, taking a few minutes, but once you're in, performance was quite good for an Atom.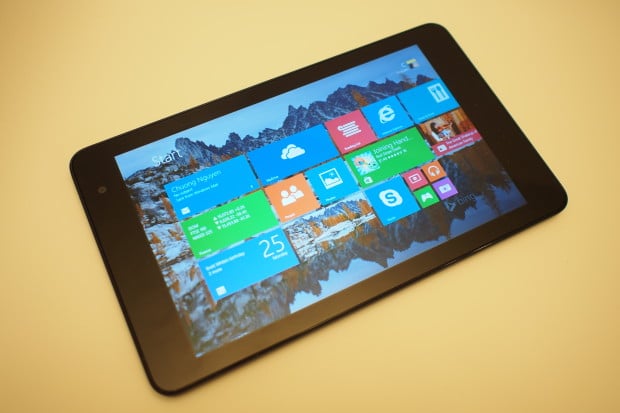 The battery life difference between an Atom and a more power-rich Core i processor is narrowing. Intel has made major battery life strides with its more powerful Core i processor so you'll be seeing battery life on both Atom-base and Core i-based models hover between 8 to 10 hours of run time. Unfortunately, though, Microsoft is restricting some of the specs of smaller tablets, so for the 8-inch tablets you'll likely find that Atom, a 720p display, and more limited storage will be the norm.
On the Dell Venue 8 Pro, I was able to squeeze around 10 hours of run time on a single charge when reading e-books or running the Modern UI apps that are purchased through the Windows Store. Battery life here rivals that of Apple's iPad mini, and that's not a bad thing given that the Venue 8 Pro isn't running a light version of a mobile OS–instead, it's running full blown Windows 8. When I switched to classic Windows desktop apps–like Word and other legacy software–battery life was closer to 8 hours.
Regardless of which mode your computing experience rests in, you'll still get close to a full work day of battery life on the Dell Venue 8 Pro.
Conclusion
Though there will be little that differentiates the Venue 8 Pro from 8-inch slabs from Toshiba and Lenovo, where Dell shines is in execution and an ecosystem that supports varying needs and lifestyles. The optional digitizing stylus as well as fitted wireless keyboard extend the utility of the Venue 8 Pro. Not only can you use the slate as a tablet, but you can convert it into a netbook or draw on it and take notes, a feature that was reserved in the historic Tablet PC era for more clunky and expensive rigs.
Still, despite its versatility, there are yet a number of compromises in bringing Windows to a smaller form factor. Lack of ports, a compromised touch experience in Desktop mode, and lack of options for wireless mobile broadband connectivity hamper the Dell Venue 8 Pro as a truly mobile powerhouse.
With the given limitations of the 8-inch form factor, if you can live with some of the shortcomings, the Dell Venue 8 Pro is by far the most polished effort in the space and the use of the full Windows ecosystem makes it even more powerful. If you're shopping for a holiday gift and are looking at an iPad mini, the Dell Venue 8 Pro should also be on a short list of devices to consider.
Where Apple's mini is built around an experience that's centered entirely on mobility, Microsoft is showing that it can make up for the lack of an apps ecosystem by falling back to the PC era software of yore. They're two different approaches to tablet computing, and it will be interesting to see how the 8-inch Windows form factor fares in the future, especially with polished offerings like the Venue 8 Pro.
If you live and breathe Windows, the Dell Venue 8 Pro allows you to take your desktop PC wherever you go, which isn't a bad proposition if you're a student, IT administrator, or one who does field work and requires the power of Microsoft's desktop-class OS on the road. But given that it's still a full PC, you'll likely still have to do a lot of management with the Venue 8 Pro, including managing viruses, malware, and privacy settings.