Dell Working on 4K 24-Inch Monitors, Leaks Details on Website
Dell is rumored to be working up a 24-inch computer monitor with a 4K resolution, which is 3840×2160 for those wanting to know the pixel count. The specific model has been detailed on Dell's website, and if it turns out to be a real product (which it most likely is), it'll be one of the most pixel dense computer monitors we've seen on the market.
Of course, the company already sells 32-inch 4K monitor, but seeing how close most people sit to their computers, 32 inches is a bit too big for most people's tastes. 27 inches works well, but 24 inches is sort of the sweet spot for computer monitors, and packing in a 4K resolution would be the cherry on top.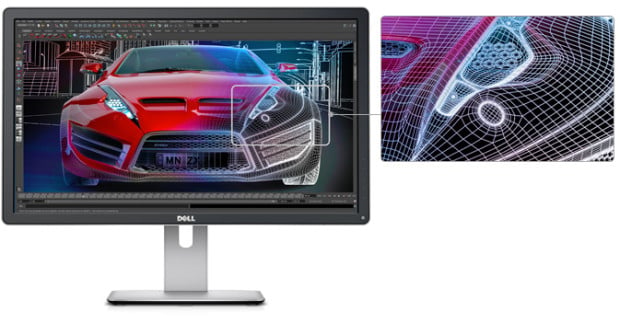 The monitor, which has the model number UP2414Q, doesn't have HDMI 2.0, so it will only be able to handle 30Hz over HDMI, but it does have DisplayPort 1.2 for those wanting a 60Hz connection, and a color depth of 1.07 billion colors. There are no details as far as price or availability are concerned, but we're guessing this particular model won't be cheap. With the company's 32-inch model clocking in at $3,500, you can bet the 24-inch variant won't get out of bed for less than $1,500 at least.
This could be a hint as to what Apple has planned in the future for its iMac lineup. Historically speaking, Apple and Dell have used the same supplier for its various monitors and displays, so it's possible that we could see 4K 24-inch iMacs come into play at some point in the future, but we're not yet sure when that could be. Apple already has 27-inch Retina display iMacs with a resolution of 2560×1440.
And if you're laughing because this is a Dell display, you shouldn't be; while the company's own computers are questionable at best, its monitors and displays are highly regarded as some of the best on the market, and many professional graphic designers and photographers turn to Dell displays to do their work on, thanks to the accurate color reproduction and great detail.