Thin, premium and powerful. Creating a device – any device – that has those three attributes is tough. Most smartphone makers can't pull it off. The feat is even harder for PC makers. Windows notebooks require more ports and bigger screens. The best notebooks also have to offer decent battery life. Only a few computer hardware makers have ever created a device that was thin and light while feeling premium. The Dell XPS 15 2015 is the latest notebook to attempt it.
It starts at $999, though the model I had tops out at over $2,000. With metal skin and a thin profile, the Dell XPS 15 2015 feels and looks better than most notebooks. It also comes with some pretty high-end internals and an amazing screen (4k display in some cases). The Dell XPS 15 comes really close to being the ultimate productivity and entertainment notebook.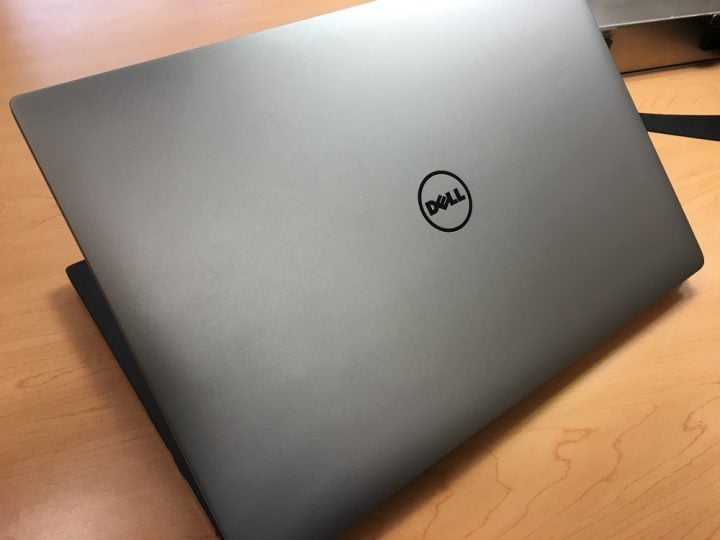 Dell XPS 15 2015 Review – Design
The machine is often described as a metal wedge. The outer edges of the XPS 15 are covered in machined aluminum that glistens in sunlight. Dell has it's logo etched in the lid. Fan vents, two speakers and a closable tray for stickers adorn the bottom of the notebook.
For a 15-inch notebook, it is light at 4.4 pounds. It's thin, too, measuring 0.66 inches at its thicket point.
Sandwiched between that metal outer crust is a lush carbon fiber surface that has a pattern embedded in it. A full-size HDMI port, USB 3.0 port, Thunderbolt 3, barrel power port and a combo audio jack sit on the left edge. That single Thunderbolt 3 port can be used as a display out or extra USB 3.0 ports with the right accessories. It also makes for some very, very speedy file transfers. On the right edge of the Dell XPS 15 2015 is the second full-size USB 3.0 port, a battery meter and lock slot. A dedicated media card reader also sits on the right, delivering a crucial way to offload media from high-end cameras that don't offer Thunderbolt 3.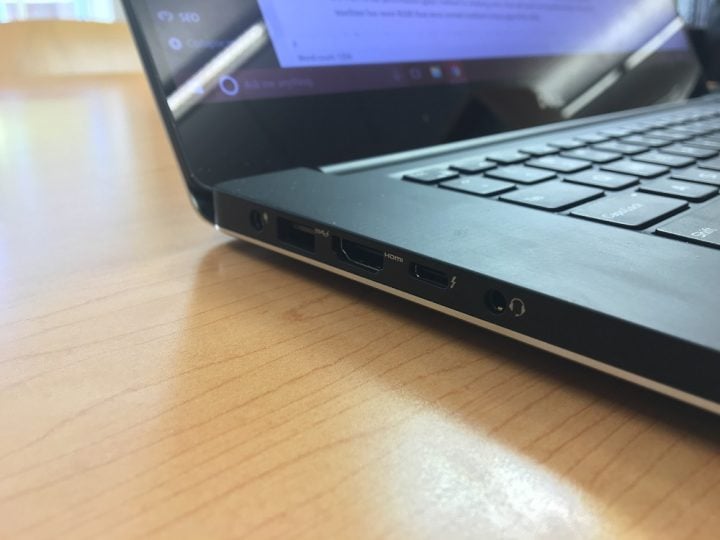 The carbon fiber surface extends to the Dell XPS 15 2015's keyboard deck and screen hinge. Dell kept the textured keyboards from past XPS notebooks along with the center-placed trackpad. Some don't like textured key caps, afraid that they'll provide too much friction for every key stroke.
I rather liked them, but they do get uncomfortable if the keyboard deck is already warm. Luckily, the keyboard deck stays cool when not gaming, editing video or heavily taxing the device's processor. It also has backlighting, which is essential in low-light productivity and gaming situations.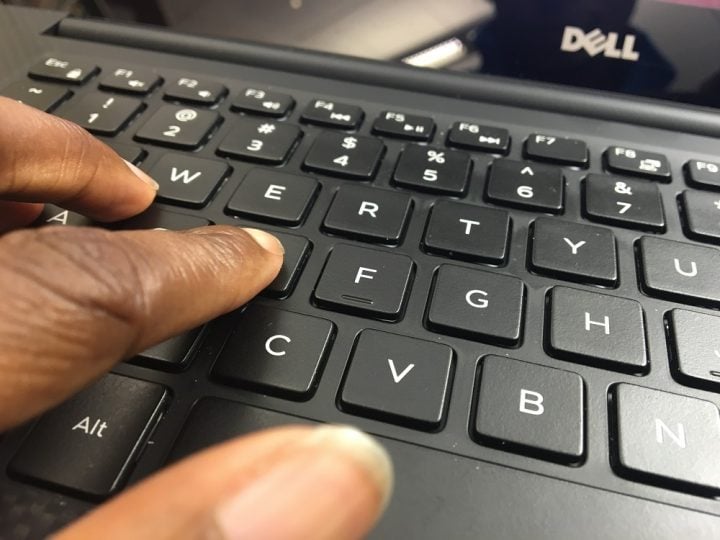 You can't open the Dell XPS 15 2015 and not have the Infinity Edge display capture your attention. It's the highlight of the notebook, the reason it looks so different from the MacBook Pro or any other Windows notebook. A rather large chin attached to the body of the display holds a Dell logo and a front-facing web camera embedded at an angle. Dell places these things here because there's about 0.6 mm of bezel on the top, left and right sides.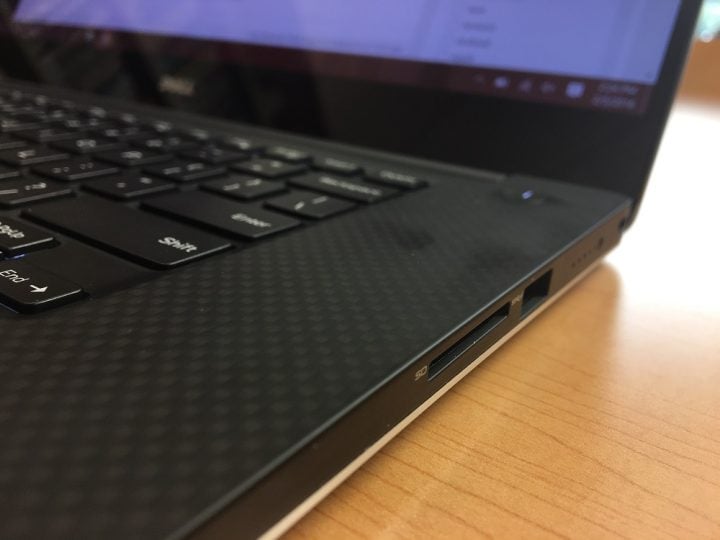 The bezels are so small that the entire machine has the footprint of a 14-inch notebook. It's a pretty impressive feat, even if we have seen it before on the Dell XPS 13 from last year.
Dell XPS 15 2015 Review – Internals
In my experience, bezels as thin as the XPS 15's allow your eyes to focus on the content on your screen. It's a good thing that the display inside the XPS 15 is stunning.
The Dell XPS 15 2015 at $999 comes with a high-definition touchscreen display. The XPS 15 sent to Gotta Be Mobile improves on that standard screen. The 4K display option for the machine has brighter colors and an app that lets users customize the display's color reproduction for different activities. High definition video and standard video are both supported.
If you're in the creative arts and you need an accurate representation of the green you're using, you can rest assured the colors you'll see in real-life match what's being shown on the display. This is done through the Adobe RGB setting in PremiereColor. IGZO technology keeps the panel from warping colors at any angle. Brightness scales up to 350 nits, letting the Dell XPS 15 2015 do battle with direct sunlight and win. The gap between the display and glass is almost non-existent.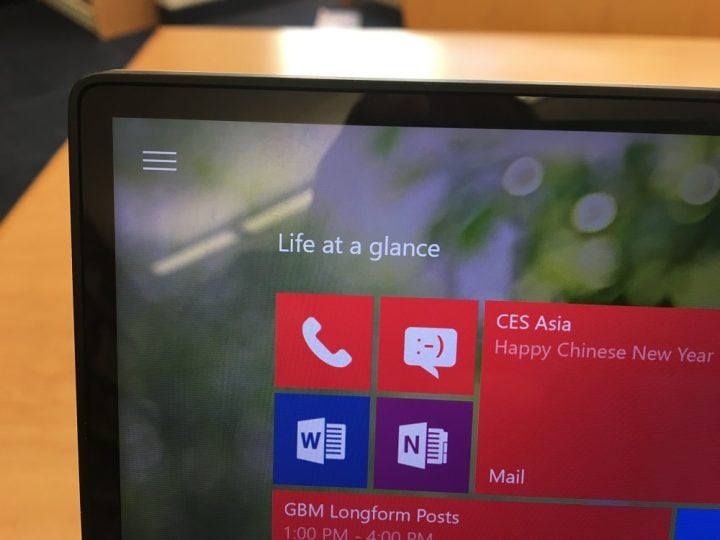 Hands down, the Dell XPS 15 2015 has the best display of any notebook. Windows does some scaling trickery on its end to make sure that 3180 x 2160 resolution doesn't have a negative effect on Windows. Mostly, it succeeds.
Backing up the 4K display are only the best internals. An NVIDIA GeForce GTX 960M graphics card with 2GB of dedicated RAM is an option on higher-end models. The base model comes with Intel HD 530 integrated graphics. The motherboard inside allows users to double the 16GB of RAM the XPS 15 comes with. Processing is handled by an Intel Core i3 all the way up to an Intel Core i7 model that has more in common with Desktop PCs than the latest breed of notebook processors.
The entry-level model comes with hybrid drives, but the high-end models come equipped with solid state drives for speedy loading times and great file performance. My model had 500GB of solid state storage.
Dell XPS 15 2015 Review – Experience
It's not until you stop thinking about each of its features in the abstract and experience them together that you truly understand how close Dell is to a monster hit with the XPS 15.
The 15.6-inch 4K Ultra HD display is gorgeous from every angle. I was able to completely cut out going to another device to double-check color temperatures for a personal project I'm working on. Movies that I purchased from Microsoft's Windows Store look absolutely stunning on the Dell XPS 15 2015. The screen also made me regret a few of the standard definition video purchases I'd made recently.
Moving the web camera to the bottom of the display does have some ramifications for conference calls and web streams. You definitely notice the unorthodox angle when typing and casting at the same time. It was pretty hard to not see my fingers while using the camera in any way. Pushing the display backwards helped a little, but not much.
Display & Performance
When not playing a game, the Dell XPS 15 2015 is whisper quiet, with little fan noise. I spent a great deal of time putting the graphics processor inside the Dell XPS 15 2015 to the test with games. I was easily able to max out the settings in Star Trek Online, Cities Skylines and Minecraft without issue. Balancing the draw distances and max resolution of some later games was absolutely essential. The Division stuttered a bit during its beta but was acceptable. Those trying to play the very latest high-end action PC games are going to notice some drops in frame rates, but nothing too extreme.
Microsoft's Windows 10 operating system stands tall on this thing, with fresh features and settings that make sense. Every app that Microsoft makes handles scaling for the 4K display wonderfully. Some apps downloaded from the Windows Store have a bit of trouble, but that's hardly Dell's fault. Cortana, the voice-activated personal assistant included in Windows 10, works well.
It is unfortunate that there isn't a fingerprint reader or special camera in the Dell XPS 15 2015 to allow you to ditch PIN codes and passwords with Windows Hello. Not offering Windows Hello support in some form is one of the few features I would absolutely add to the Dell XPS 15 2015 if I could.
Read: Windows 10 Review – A Love Affair
Battery Life
Battery life is the only area in which I think the Dell XPS 15 2015 falls significantly short. Rendering things on the 4K display model has big ramifications for battery life and it shows.
The standard model with FHD display can rack up 17 hours of battery life, according to Dell's representatives. 7 hours in between charges was a stretch goal that I achieved only when running nothing at all. Day-to-day, I'd say roughly 5 hours in between charges was the norm. That's with Microsoft World Mobile and a single Microsoft Edge window open.
Flipping on Windows 10's Battery Saver mode did very little to improve sustained battery life over the course of a day. Toning down the screen brightness on the Dell XPS 15 2015 helped with battery life a lot, especially since it can get as bright as 350 nits. The battery meter on the left side of the notebook is a nice touch.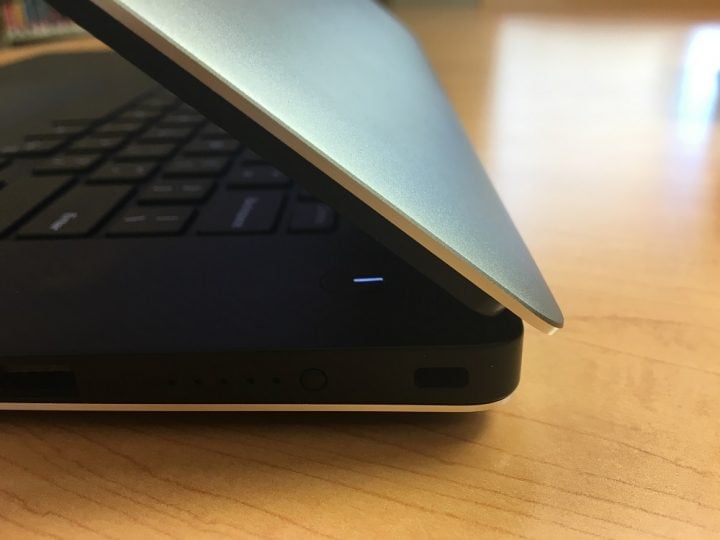 Thunderbolt 3
A battery add-on that connects through the Thunderbolt 3 port lets you extend time between charges, but I wasn't able to test the accessory and judge the two together.
I was able to test the transfer speeds that Thunderbolt 3 provides and, man, was I impressed. Microsoft's Lumia 950 offers a 20 megapixel camera that I always set to max. I transferred 40 pictures and a little video in less than a minute. Also, connecting to multiple accessories with a single plug is terrific. I turned the XPS 15 from mobile gaming machine to living room console with just one Thunderbolt 3 adapter.
Dell XPS 15 2015 Review – Should You Buy?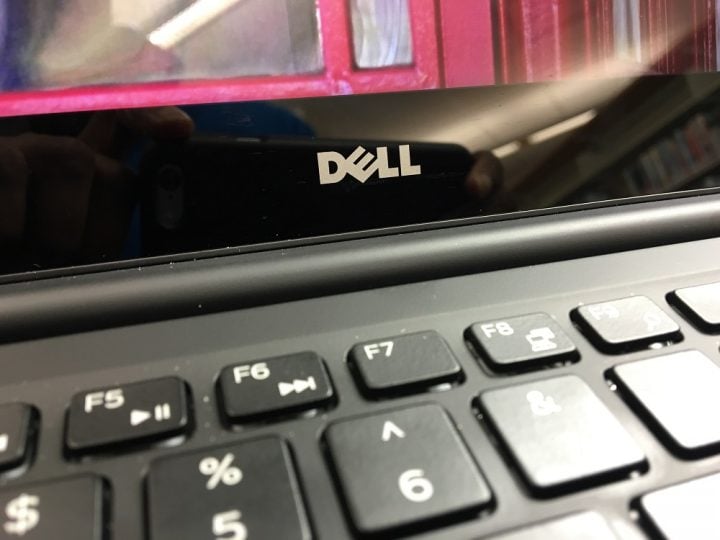 I don't say this lightly, the Dell XPS 15 2015 is the best professional Windows notebook made yet. Its screen is gorgeous and its design is outstanding. The trackpad is incredibly accurate. The 4K Ultra HD Infinity Display is magnificent. That all of this comes in a distinct and svelte package is impressive. Seriously, Dell is playing on a level hardly anyone thought it was capable of just a few years ago.
That isn't to say that there aren't problems. The device's textured keyboard is great, but certainly won't be for everyone. I wasn't impressed by the notebooks battery life in the slightest.
Still, the Dell XPS 15 2015 is the best large-screened Windows notebook there is. It's perfect for content creation and consumption. The only group of people who should think twice about purchasing it are those that want all-day battery life. Even those guarding their wallet will be impressed.

As an Amazon Associate I earn from qualifying purchases.