Dell XPS 15: Equipped for the Amazing
Some small part of me felt guilty for the things I did with the Dells XPS 15 the first week I had it. I pretty much stuck to my daily routine and used it for tasks that were essential, but that were essentially pretty boring. I felt that I had to kick things up a notch this week.
As I mentioned in Dell XPS 15: Terrific for the Everyday, Dell provided me with its Dell XPS 15 notebook in exchange for sharing how I'd use it. Shortly after writing that piece on Tuesday afternoon I headed to GameStop to buy some supplies for the weekend.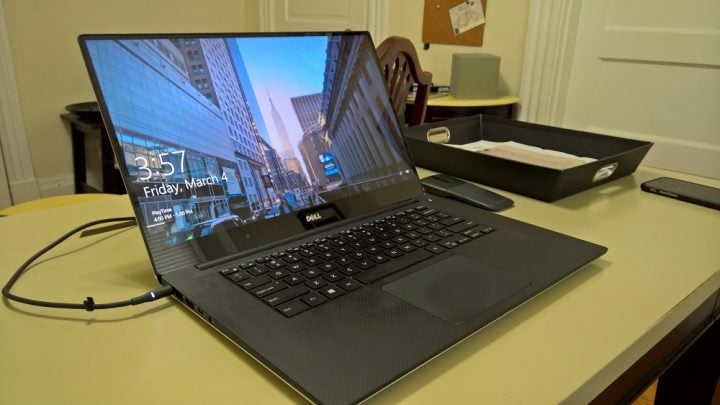 The office work I'd used the Dell XPS 15 for up until then is a bit like buying a Ford Mustang only to keep it in your garage. This machine has a discrete graphics card, solid state storage and a 4K display. For this piece I wanted to show the notebook off.
Game On
Until recently, my personal computer of choice was the Microsoft Surface Pro 4. I purchased it because it allowed me to eliminate all the extra devices and complications in my digital life. As a productive adult, it was a smart move. Having a tablet and a notebook in one is great for most activities.
Gaming isn't one of the activities it enhanced, though. The entry-level Surface Pro 4 lacks a fan and a discrete graphics card. Even the more expensive models would have had a hard time with the latest games. I knew that going in, but hadn't discovered Homeworld or Cities Skylines yet.
PC gamers would have built their own rigs for this, but the XPS 15 had everything I needed already to make a decent gaming machine and was a laptop.
All versions of the Dell XPS 15 sport Intel HD 530 Graphics. The upgraded models come with an NVIDIA GeForce GTX 960M graphics card and 2GB of dedicated RAM too. 16GB of RAM and an Intel Core i7 quad-core processor made it the perfect device for mobile gaming. I could build a gaming PC, but it wouldn't be as portable as I needed it to be.
Read: Windows 10 Review – A Love Affair
I picked up an Xbox Wireless Adapter and an Xbox Elite Controller to use with the Dell XPS 15. Determined not to go straight home, I tested the new accessories at my favorite table in the neighborhood Starbucks. There wasn't a lot of configuration involved really, the Windows 10 operating system that the Dell XPS 15 runs includes the drivers for all these accessories already. I'd pre-loaded the machine with all my favorite titles: Cities Skylines, Star Trek Online, Disney Infinity 3.0 and Tom Clancy's The Division Beta on Tuesday.
I started out by downloading the JoytoKey tool and mapping the Xbox Elite Controller's buttons to keys on the XPS 15's keyboard. Then I cracked open the NVIDIA GeForce Experience for the first time. There I optimized the game's settings to get better graphic quality.
Two hours later and I'd built a city in Cities Skylines that looked amazing on the Dell XPS 15's gorgeous and bright 4K Ultra HD display. Colors were crisp and nice, though I tweaked them a little using the PremierColor tool installed on the notebook to add a bit more pop. I didn't notice any throttling while playing the game, but did notice a few strange looks from customers as I set there trying to get my curved highway just right.
My mobile gaming session didn't run much longer at Starbucks because I'd left the XPS 15's charger at home. Satisfied that two Venti cups of coffee and re-creating half of Manhattan Island were enough, I headed home.
Thunderbolt 3 & You've Got an Xbox
Besides the notebook itself, Dell included a tiny adapter and a few other accessories with the XPS 15. Had I planned ahead, that power companion would have allowed me to boost my gaming time without coming home for a charge by a few more hours. It wasn't until I got home that I remembered this. When I did remember, I started thinking a lot about the Thunderbolt port one of the adapters uses.
Thunderbolt 3 looks a lot like USB 3.0 Type C. The plug allows for ridiculously fast file transfers. I'd tested this out earlier in the week when I took photos of the Alienware Steam Machine for a review and offloaded them from a Lumia 950 with USB Type C of its own.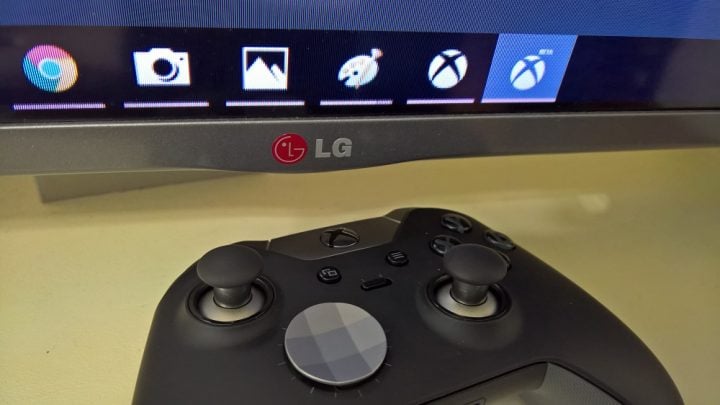 That led me to realize that the Thunderbolt 3 port meant the XPS 15 didn't need to be relegated to just mobile gaming. The adapter and Thunderbolt 3 meant that I could quickly and easily attach a display, the Xbox One Wireless Adapter and Ethernet to the XPS 15. In short, I could turn the Dell XPS 15 into a low-profile Windows gaming and entertainment console beneath my television.
It took some negotiating on Windows' part, but the trick worked. I played Cities Skylines for a few more hours with the notebook closed and sending the video to my office television. Windows 10 doesn't lend itself to a nice living room experience. I mapped the Xbox One's right joystick to mouse movements to make the interface usable.
A little later I took the notebook to my grandparents and did exactly the same thing. My little cousin and I have weekly play dates where we run through a few games together for fun. After I'd gotten everything setup, my grandfather remarked how much easier it was to "carry a decent notebook" instead of hauling my Xbox One around each week. He likes to needle me about the absurd lengths I sometimes go to get in a game in my spare time. Also, he'd seen how terrible the poor Targus backpack that I used to carry that Xbox One back-and-forth was holding up. The XPS 15 weighs 5 pounds. I love the Xbox One, but it and its power adapter are so heavy and bulky that mob bosses could use them to make sure bodies sink.
We played Cities Skylines into the early evening, then ate some horrible takeout food while watching the digital copy of Spectre that I purchased from Windows 10's Store app.
As a tech reporter, I think a lot about my own usage habits. With a 4K display, decent graphics and easy docking in a single notebook, I thought about maybe dropping my second Xbox One and investing in Microsoft's Xbox PC gaming ecosystem for good. I'm still mulling over the decision.
The XPS 15 did get me thinking about it though, and that's a big feat in itself. The XPS 15 had gone from productivity powerhouse to mobile gaming notebook and living room console replacement with the addition of just a few accessories.
This is probably the geek in me talking, but I think this is one of those times when it's ok to throw around words like, "amazing."

As an Amazon Associate I earn from qualifying purchases.