Dell XPS 18 Is a Mobile Tablet Workstation For Your Home
There are tablets and phablets, and now Dell is hoping to carve out a new tablet computing category with its XPS 18, which the company is calling a portable all-in-one. In essence, the XPS 18 is an 18-inch tablet that can be used as a traditional all-in-one (AIO) PC, like Apple's iMac, or as a tablet as it has its own internal battery that can go for about 4 to 5 hours on a single charge.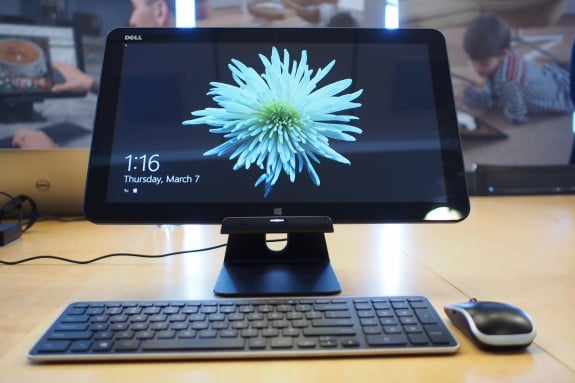 The Dell XPS 18 is a powerhouse though and bests many tablets on specs. Dell will be offering a variety of configurations for the tablets with Intel Core i3, i5, or i7 processors and a range of hard drive capacities and solid state drive options. The tablet weighs 4.87 pounds and runs Microsoft's Windows 8 operating system so it's a desktop-class computing machine that can handle any task you throw at it.
The tablet itself feels solid and sturdy. Made with strengthened glass for the touchscreen front and a soft-touch paint coating over a metal backing.
Dell says that it should be able to withstand daily use when toted from room to room. The company didn't disclose any drop tests, but in early promotional materials, children were shown playing with the tablet so hopefully it holds up to the children test. The tablet itself can be used in a number of different configurations thanks to two prongs that prop out on the rear.
The first configuration is a more upright configuration, which is similar to how a monitor or TV would look. It's slightly angled, but stands tall.
A second configuration would be more flat, but with a slight angle angle. This is similar to a tabletop tablet configuration.
And the third configuration would be in tablet mode, being carried around or laid flat on a surface.
There's an optional stand accessory that magnetically attaches to the XPS 18 to charge. When the tablet and the stand make contact, a charging indicator light on the front would turn on.
The stand itself costs around $50 and turns the XPS 18 into an iMac-like rig. It's attractive and elegant when holstered to the stand.