Dell's 2011 Tablet and Smartphone Roadmap Leaked
Dell's smartphones and tablet plans for 2011 were leaked in two slides to Smartphone Experts sites Android Central and WPCentral, which reveals additional hardware and devices from the company.
In addition to firmware updates scheduled for Spring of this year for the Windows Phone 7 Venue Pro, the company is set to release a next-generation hardware utilizing the same Venue Pro form factor in the summer, or Q3. Codenamed Wrigley, that device is said to sport a 1 GHz processor–probably a newer processor than what's on the Venue Pro that's now available–and a 4-inch WVGA capacitive touchscreen along with an 8-megapixel camera with 720p HD video capture.
The company will also be releasing an Android device with a codename of Hancock, which will feature a landscape-oriented slider to reveal a keyboard. The device will utilize a higher-resolution qHD display–the same that's found on the Motorola Atrix 4G and the Droid Bionic–in a 4-inch form factor along with an 8-megapixel rear-camera and a 1.3-megapixel front-facing camera along with 1080p video recording support. For its part, Motorola has said that it will be upgrading its Tegra 2-powered Atrix 4G at a later date to include 1080p video capture support; the device will ship only with 720p video capture support. The Hancock is expected in late summer, around the August-September time frame.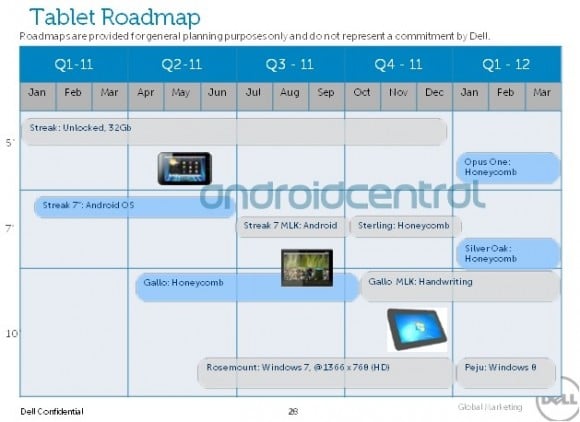 In Q4, beginning about October-November, the Millenium is slated, which will be the second Android device to utilize Android Ice Cream, the first version of the operating system that merge's Google's Android for smartphone and Android for tablet (currently Android 3.0 Honeycomb) builds together into a unified Android platform. That device will be similar to the Hancock, but will be a pure slate device and will eschew the landscape-oriented sliding keyboard.
On the tablet front, it seems that we will have three devices–the Gallo and Sterling, which will be a Honeycomb tablet,  and a Windows 7 device codenamed Rosemount. The Gallo and Rosemount may utilize a similar 10-inch chassis, and the Sterling may be a smaller tablet. Windows 8 may appear in the 2012 time frame with a Peju tablet and there will be an Opus One device in early 2012 that will utilize Google's Android OS.
Via: Engadget

As an Amazon Associate I earn from qualifying purchases.