Dennis interviews a Mystery guest, and makes a GBM announcement!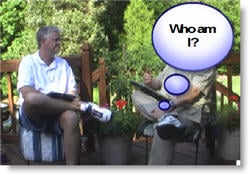 Well, I had a little time, and was in the mood for some good conversation with someone about Tablet PC's and the ""Tabletscape" in general. I pondered and I thought for a while, and ran through a possible list of candidates. I ended up with a person who is known to many in the Tablet PC arena and also runs a successful blog on the subject. Plus, he is just generally a nice guy.
We spent a few minutes discussing him, his views on what is going on in the general Tablet/UMPC PC world, and then he helped me to share some special information Rob and I wanted to pass on to our readers on GottaBeMobile.com in the way of an announcement. You don't want to miss the news at the end, but will especially enjoy hearing from my ""Mystery" guest!
Listen to the InkShow interview here! ( 17 minutes, 64mb, Windows Media streaming or direct download)