Designing the HP TX1000 Tablet PC
Star TechCentral has a great article on the process HP went through in designing the HP TX1000 Tablet PC and the new TouchSmart PC. Touch and aesthics played a huge role based on their survey and usage research.
I take some issue with the statement below as 'the industry's first notebook with a "twist and touch" screen', since Lenovo introduced their touch tablet pc in November, and there is also the Fujitsu P1610 touch Tablet PC. But, we'll give a little grace in the overzealous marketing by HP.
Read more here and watch our InkShow on the HP TX1000 here.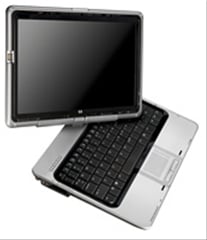 When Hewlett-Packard launched its "The PC is personal again" campaign last May, its objective was to give choices to the consumer and allow them to personalise and treat their computers as something they would be proud of.
At a regional press event in Seoul recently, the company continued down the same path by announcing several products with innovative designs that promise to revolutionise the way people interact with the PC.
One of them is the HP tx1000 entertainment notebook, which is touted as the industry's first notebook with a "twist and touch" screen.
According to HP, the design combines sensory touch features with the best in mobile computing technology thereby giving customers a new way of interacting with their PC.

As an Amazon Associate I earn from qualifying purchases.