DeskConnect for Mac iPhone and iPad is What AirDrop Should Be
Apple introduced AirDrop with OSX 10.7 Lion and it will find its way into iOS 7 when Apple launches it at their launch event on September 10, but so far some users find it lacking and wish it worked better. This opens the door for a tool like DeskConnect, which runs on a Mac running OSX 10.6 or later with a 64 bit processor and on iOS 5.1 or later. DeskConnect gives us the AirDrop Apple should offer and DeskConnect runs on older versions of iOS, bringing AirDrop functionality to people who don't upgrade to iOS 7.
Theoretically, AirDrop promises to transfer files to and from devices using drag and drop. Drag a file onto the AirDrop sidebar item in Finder on a Mac and it should show other devices running on the same network. In our experience AirDrop functions poorly and requires versions of OSX or iOS not everyone can run.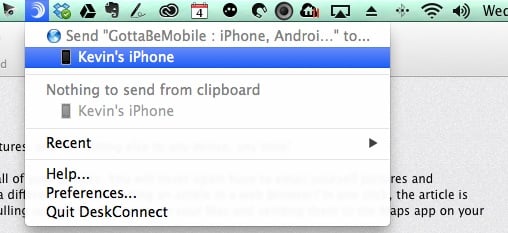 DeskConnect (Free in Mac App store) runs on a Mac, sitting in the menu bar. All Macs running the app and logged into the same account will show up in the drop down menu. Install the iOS version (Free in iTunes App Store) on an iPhone, iPad or iPod Touch and those devices will also show up in the menu on the Mac as well.
Users can transfer website links, documents, pictures, video and more between machines running the app. What's more, they can transfer the content over the Internet. The user doesn't need a direct connection, nor do they need to connect to the same local network.
The transfer takes place over the Internet once the user signs up for an account when they first install the app. Log into the other devices using the same email and password and all devices will show up in the menu on the Mac or in the app on the iOS device.
When someone transfers content to their iOS device, the file shows up in the DeskConnect app. Tap on the file and use the Open In feature to transfer the file to a compatible app already installed on the device.
We love the app and think Apple should buy the company and replace AirDrop with DeskConnect. It works much better and more reliably than AirDrop. It runs on more devices and works fast. The lone weakness comes from the 30 day limit. Files will get removed after that time period. So long as users know this it shouldn't cause problems.