Despite Cameron's opinion, Samsung Vibrant ships with "Avatar"
Samsung announced they're hitting the U.S. smartphone market with four new Android devices, one for each of the major carriers. Details are still scarce on most at the moment, but their T-Mobile phone, the Samsung Vibrant, lists an interesting tidbit: it's pre-loaded with James Cameron's Avatar, despite what Cameron thinks of watching movies on phones.
Actually, the Vibrant is hitting the entertainment/media consumption market on every front they can jam into the device with The Sims 3 Collector's Edition, MobiTV, Kindle for Android, and access to GoGo Inflight Internet and Slacker Radio all preloaded. What makes Avatar notable is that James Cameron voiced his opinion against watching movies on phones at D8…
The iPhone is just too small for me. Now, I think other media, whether it is news, sports or whatever it is, that is fine. But I would not watch a movie that way. To me there still has got to be some shred of sanctity in the film-watching experience.
While he was asked specifically about the iPhone and answered appropriately, the problem he cited isn't the device but the size of the device. I don't imagine the marginally larger Vibrant would alleviate that concern. And no 3D display either? I imagine James' reaction to this "shredding" of his film's sanctity might look something like this…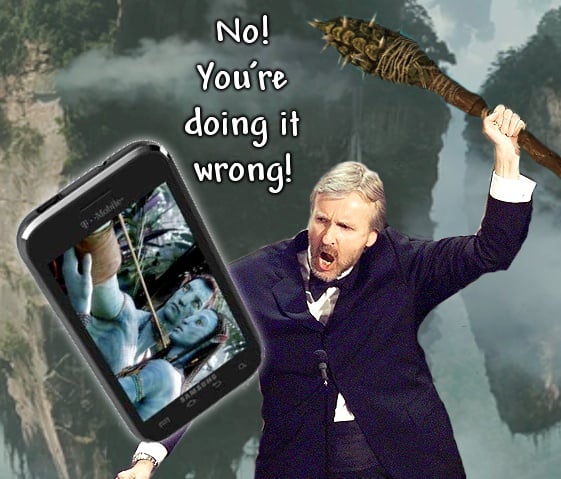 Hat tip to All Things Digital