Destiny Beta Starts Early for All
The Destiny Beta is now available for PlayStation 4, PlayStation 3, Xbox One, and Xbox 360 users, a day earlier than expected.
Bungie's Destiny Beta went offline yesterday for a maintenance period that was supposed to last for two days. Today however, in a bit of a surprise, Bungie says that it has finished up that maintenance and that the Destiny Beta is now available for all users including Xbox One owners and PS4 users. Xbox 360 and PS3 owners also now have access to the Destiny Beta.
The company encourages users to hop into Destiny Beta in an effort to break the game ahead of its public release later this year. The feedback provided by beta testers on the Xbox 360, Xbox One, PS4 and PS3 will ultimately help the company deliver a better all-around experience when the game is released for consoles in September.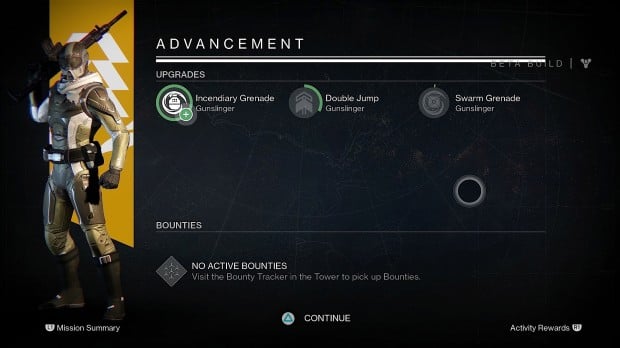 In addition to letting console gamers play the game early, Bungie is also packing in some rewards. The Destiny Beta, which requires a code, includes an exclusive emblem for the retail version of Destiny. The company says that it will also be packing in some surprises during the beta process which closes on July 26th, just a few weeks ahead of the Destiny release date.
Xbox One, Xbox 360, PS4, and PS3 users looking to play the Destiny Beta must use a code to get the game up and running. The company highly recommends checking email or your Bungie.net profile page in order to get the code to redeem the beta. Once found, users can simply head over to Bungie's website, follow the instructions, and get the game up and running in no time.
Users that have extra codes can now share them with friends and family and the company says that all embargoes are now lifted which means that users can showcase the Destiny Beta in all of its glory. Keep in mind, Xbox Live Gold is required to play the game and in Japan, the Destiny Beta is only for the PlayStation 4.
The beta is also not compatible with the following devices due to a hard drive requirement:
Xbox 360 Arcade Console
Xbox 360 4GB Console
Xbox 360 Core System
PlayStation3 12GB System
The company notes that the Xbox version of the Destiny Beta is going to be a two-part download with the first download an installer. The second download will be the actual game file. The file is large and could take some time to download. Mileage will of course vary depending on internet connection.
Hey, Xbox gamers, the Destiny Beta is a two-stage download. You're downloading an installer. Seek out your PS friends for grief counseling.

— Bungie (@Bungie) July 22, 2014
After collecting feedback, Bungie will get back to work ahead of the device's public release, scheduled for September 9th. When the Destiny release date arrives in September pre-orderers will also gain access to Roni 55-30, the Vanguard Quartermaster, who maintains a collection of select weapons for those who got in on the Destiny preorder.
Here is a quick look at some of the special Destiny preorder bonus weapons that are unlocked with the Vanguard Armory.
Singularity S.3 – Rifle tuned for precision fire – 60 Attack
13098V Incognito – Sniper rifle with improved design tolerances – 60 Attack
Harbinger – Rocket Launcher – 60 Attack
Carte Blanch S.1 – Auto Rifle tuned for long-range – 60 Attack
SG Scattercast – Shotgun – 60 Attack
SK5 Type-Null – Fusion Rifle – 60 Attack
Peccadillo's Grace – Hand Cannon – 60 Attack
BTRD-345 – Machine Gune – 60 Attack
Trifecta S.2 – Pulse Rifle tuned for long-range – 60 attack
The Vanguard Armory Destiny preorder bonus also includes gear to help you survive fights longer while you're battling through the worlds of Destiny. Below we share a quick look at some of the Destiny preorder bonus gear that you'll get:
Stratus White – Helmet – 33 Defense
Chroma White – Helmet – 32 Defense
Agema White – Helmet – 32 Defense
Those that don't want to pre-order order early can wait for these special Destiny preorder bonus items, but they will be exclusive to users who preordered until at least fall 2015.
The Destiny preorder bonus comes with any pre-order copy, including Destiny Special editions and is available from most retailers. If you want the Destiny beta preorder bonus as well you need to order from a select retailer like Best Buy, Amazon, GameStop or Walmart. Amazon is the best place to order for fast Destiny beta code delivery, as it will arrive within seconds of ordering.

As an Amazon Associate I earn from qualifying purchases.