Destiny House of Wolves Release Teased, Cheaters Booted
The developers of Destiny, last's year's best-selling online role-player game turned first person shooter, are teasing details about the House of Wolves add-on Expansion Pack. The studio is finally dealing with the players taking advantage of the hard work of others by joining in-game parties and just standing there too.
Bungie, Destiny's developer teased a House of Wolves release date in a weekly update post this morning. In the post the studio doesn't say much about House of Wolves beyond a reveal date coming up pretty soon, saying "this month, there will come a day when we'll reveal a release date for the trials that await you (players)." Destiny House of Wolves will be the second major expansion pack to come to Destiny since the game launched this past September.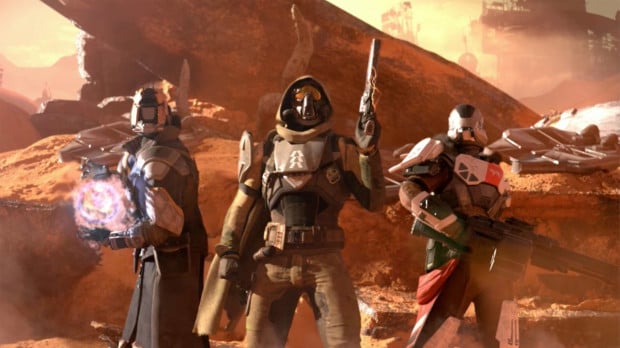 Along with the tease for the House of Wolves Destiny expansion, Bungie shard more about what users can expect in Destiny Update 1.1.2.
Bungie has plans to address the Raids included in the game. Raids are the complex, multi part missions that Destiny players need a team to complete. The studio plans to make some alterations to the Antheon and Crota bosses included in Raids because they found that a number of players are simply choosing to give up. Bungie hopes to discuss that these Raid changes in detail next week. Destiny engineers are also examining some of the Strike missions, which are also pretty harsh. Bungie is lowering the Psion Flayers' and Calus Ta'Aurc's health and shields.
Those big changes in policy for those who idle are the biggest surprises included in the today's post. Bungie says that its user research for Destiny examined how to address the members of the community who seem perfectly comfortable with letting the rest of their team compete missions why they simply stand there. Called idling, this is hardly the first time it's come up in online gaming. That being said it is a big problem in Destiny since a big portion of the game is based on completing missions and leveling up characters.
Bungie says that a small amount of idling has ruined the Destiny experience for thousands of other players and so it has no choice but to take action. The studio has slapped some users with matchmaking restrictions, forcing them to play with only the people that they know. For now, the move is temporary, but the developer is threatening to issue "permanent restrictions" for those who like to sit in other's Strike missions and not actually participate. Destiny players who encounter idlers are encouraged to submit feedback to Bungie about their experience so that they can take action.
Destiny is the first game for Bungie since it developed Halo: Reach for the Xbox 360. Before that game arrived the studio split from Microsoft and became its own entity. The company now makes games for both Sony and Microsoft's platforms. 343 Industries, an internal Microsoft studio, has taken over development of the Halo games and franchise lore.
New copies of Destiny sell for $49.99 for the Xbox One and Xbox 360 at GameStop. The PS3 and Xbox 360 versions of Destiny are $35. Buying the digital version of Destiny for the Xbox One and PS4 digitally still costs $60, which makes sense as digital prices aren't necessarily governed by sales and physical copies that old players are trying to unload. Users who purchase Destiny's Expansion Pass for $35 get House of Wolves and The Dark Below for $5 cheap than they would cost separately. The Digital Guardian editions of the game include the Expansion Pass, but cost $90 instead of $49.99.

As an Amazon Associate I earn from qualifying purchases.