Destiny: How to Get Into the Destiny Beta & What To Expect
Despite most gamers and gaming journalists now comparing Bungie's upcoming Destiny game for the Xbox One and PS4 to the studio's efforts with Halo, many console owners are very excited for the game's release. Unfortunately for those users, Destiny was delayed earlier in its development, which means gamers need to wait longer to play. That's ok though, because Destiny looks to well worth the wait.
Also, there's a Destiny Beta for interested players to fuss over until the final version of the game arrives. That's great even if getting into it isn't as straight forward as it could have been.
Getting into the Destiny Beta won't be as simple as just applying for a Beta code like what's been done with other games in the past.The processing of getting into the Destiny Beta starts with users deciding which console they're going to play the game on and where to make the purchase. Bungie, the game's developer, has confirmed that this summer's Destiny Beta will be a purchase only affair. Users will have to pre-order a physical copy of the game in order to be included.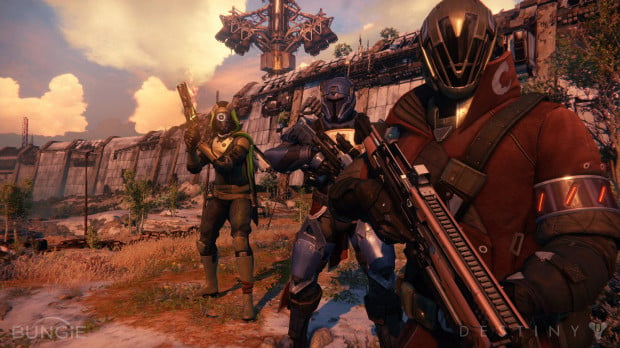 According to Bungie's FAQ about the beta, participating retailers handing out beta codes only include Amazon, Best Buy and GameStop. Users can pre-order Destiny at other shops like Target and Toy's R Us, but they won't get the printed code that they'll need. It's because of this that any user who is planning to purchase a digital copy of the game through Xbox Live or PlayStation Network probably won't get access to the Beta. To be clear, the Xbox One doesn't yet allow users to pre-order digital games anyway so that's not a problem for those users.
In addition to arriving on the Xbox One and PS4 this fall, users can expect Destiny on the Xbox 360, PS3 too.  It's best for users to pre-order the game on the system they already have unless they have definite plans to purchase a newer console sometime this summer before Destiny arrives on store shelves.
Once a user has successfully pre-ordered a copy of Destiny they'll need to head to Bungie's website to sign up for an account and redeem the special confirmation code that is included with their pre-order from the participating retailer.
Once that process is over the waiting begins. Since Destiny was due out this past spring, Bungie has changed the timing for the Destiny Beta because of the delay. Officially, the developer has confirmed that Xbox One, PS4, Xbox 360 and PS3 users can expect the Destiny Beta to begin sometime this summer. As summer starts in just a few weeks, that could be any day now, really. This being a Beta, it's safe to say that users shouldn't expect it to be indicative the game's final experience. Many developers change their games in small ways after discovering balancing issues and exploring how users interactive with each other and what weapons they make use of.
Bungie has confirmed that PS4 users will get access to the Destiny Beta first. Other console users will get access to the beta at some point after PS4 users.
It's easy to see why a lot of gamers are so enthusiastic. Yes, Destiny is primarily a first-person shooter. That much can't be argued with. However, the game does things that have never been successfully tried in the genre.
The gamer's characters will effectively take on a life of their own. Users will be able to customize their character and earn more in-game currency to add even cooler elements and weaponry to their arsenal. Users will actually be able to see other characters performing heroic acts in the same game world that they're in. This means that the levels in Destiny should feel alive and brimming with activity.
At the beginning of the game players will be tasked with choosing to join specific factions that exist in side the game world. Typically, robust character customization and community are something that users flock to multiplayer PC games to explore. That Destiny is trying to introduce these elements to consoles is what makes it so exciting.
Let's not forget that this is Bungie, a studio who has built its reputation on creating science fiction games with stories that users can't help but get immersed in. Gamers will be tasked with stopping an alien race from destroying what is left of humanity. The Guardians that characters create will use powers given to them by a mysterious sphere to protect and defend the last remaining human civilization on Earth.
This in-game world will constantly change. As such, the world that users leave behind in Destiny after a play session on a Tuesday, might not be the world they return to on Friday. At least, that's the impression that Bungie gave when discussing the game with IGN shortly after its reveal.
A hands-on video showcasing what users can expect from Destiny was posted earlier this week by Destructoid. It showcases the vehicles that'll be available to users and the abilities that players will use to take on their enemies.
Destiny is scheduled to make its debut on store shelves on September 9th, though presumably, PS4 users will be able to digitally download a locked copy of the game a few days before that because of that console's new pre-order system. It'll cost $60.

As an Amazon Associate I earn from qualifying purchases.