Destiny The Collection Release Date & More
How do video game lovers get one of the most popular titles of all time and every piece of its add-on content for a reasonable price? If they're into Destiny, but haven't purchased the game's latest expansions, Destiny The Collection is how. Coming at the end of the summer, Destiny The Collection release will make it cheaper to catch up with Destiny's most exciting content.
Announced recently by Activision and developer Bungie, Destiny The Collection piles every piece of add-on content ever introduced in Destiny. The massive online role-playing game launched on PS4 and Xbox One back in September of 2014. Soon after launch, Bungie and Activision began adding new planets, maps, modes and missions. Those that didn't purchase the Destiny Season Pass ended up purchasing some of the games expansions individually. For Year Two, Destiny picked up another major expansion and smaller sets of content upgrades. Earlier this summer, Bungie and Activision announced yet another Destiny expansion, called Rise of Iron. That's a lot of content for new players and casual gamers to keep track of.
Read: Destiny Rise of Iron Release Pre-Orders, Price & Details
Destiny The Collection provides an easy way for newcomers to get all of the content they need for the role-playing game, without having to hunt them down individually.
Destiny The Collection Release Date
As a shortcut for everyone that's sat on the sidelines thus far and not jumped in Destiny, Destiny The Collection couldn't very well launch too far after the Rise of Iron expansion. Destiny The Collection launches on both Xbox One and PS4 on September 20th. That's the very same day that the Rise of Iron expansion rolls out to the Xbox Store and PlayStation Store.
Besides being great for newcomers, Destiny The Collection is also the perfect bundle for anyone upgraded from the Xbox 360 or PS3 versions of Destiny. Along with the Rise of Iron announcements, Bungie confirmed that players would need to upgrade to the Xbox One or PS4 versions to keep getting new content. Rise of Iron won't come to older consoles.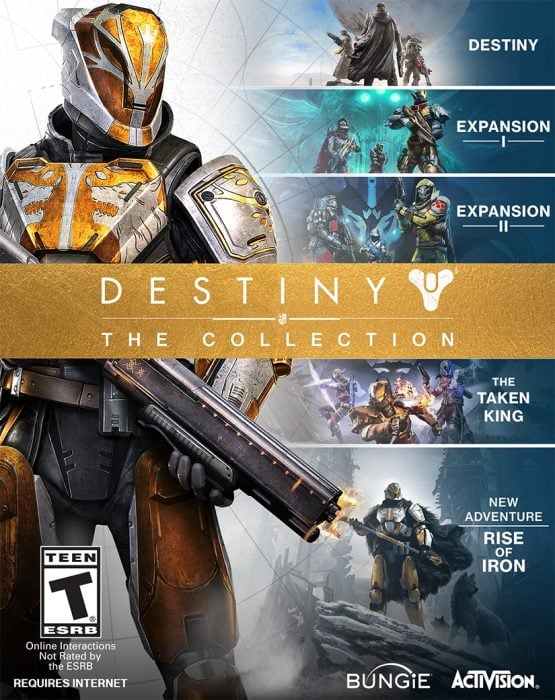 Read: Destiny Rise of Iron Release Brings Bad News for Xbox 360 and PS3 Gamers
Destiny The Collection Pre-Orders
Amazon and Best Buy have already begun taking Destiny The Collection pre-orders for both platforms. Purchasing a physical copy of the title costs $59.99. The same goes for those that purchase the game digitally.
Bungie and Activision want as many people as possible to get in their pre-orders now. Those that pre-order the collection or Rise of Iron on its own get Iron Gjallarhorn, a type of weapon for use in the game. On top of that, everyone that purchases the digital version gets to experience all of the current content that Destiny has to offer until Rise of Iron arrives on September 20th.
Those that buy the digital version directly from the Xbox Store get a Sparrow vehicle to match their new weapon at no additional charge. The same goes for the PlayStation Store. PlayStation Rise of Iron buyers already get some exclusive raids and extras too.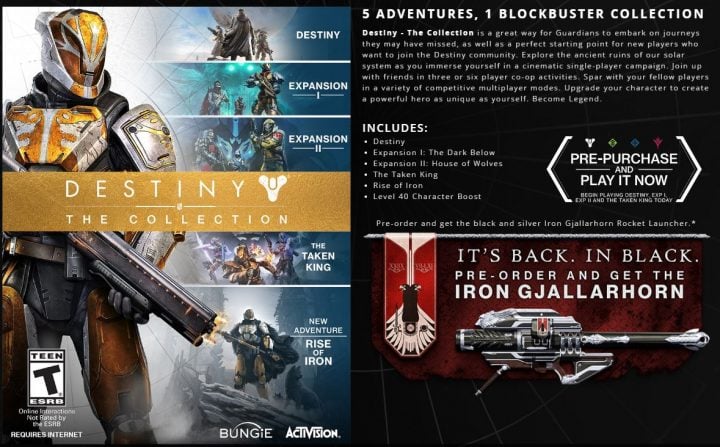 Anyone that buys the entire the collection wants to be sure that they have enough space for the entire game and add-ons on their Xbox One or PS4. Bungie says that all of the collection's contents will take up around 60GB of storage space.
Everything That's Included in Destiny The Collection
Because Destiny Rise of Iron is an expansion and not a new standalone title, the average gamer would need to make a few separate purchases before they were able to play. Destiny Collection ensures that getting started with Rise of Iron takes just one step.
Every major add-on from the game's first year of availability until now comes in this package. From Year One there is The Dark Below and House of Wolves. From Year Two, there's Destiny The Taken King. Of course, Rise of Iron is included too. All of these major expansions add new missions and experiences on top of the content that came before them. You need them all to get the most out of this year's expansion.
Because it's an online role-playing game, character progression is key. Problem is, forcing new players to go through that entire progression system, playing with and against other players, wouldn't have been fun. As such, Destiny The Collection includes what's called a Character Boost. Buyers can create one character and send them directly to Level 40 instead of grinding through the lower levels of the game.
All told, Destiny The Collection is a pretty good deal. Rarely do video game publishers package up all the content that players need, plus a level bonus to get them started. Anyone thinking about trying out Destiny should consider anthology for sure.
Destiny Rise of Iron may very well be the last major update to the base game before it's replaced by the often rumored Destiny 2.