Devices to Help Sooth Wedding Shopping Overload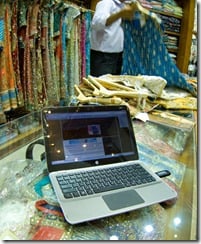 Yesterday my wife dragged me to Seasons to go shopping with my wife's family for my brother-in-law's wedding. Season's had hundreds of beautiful outfits and I think they tried on just about all of them in the 5+ hours we were there. Luckily, I had my HP Envy 13 in my backpack.
I set up my mobile office on one of the display counters while my wife and sister-in-law started the shopping marathon. My Reliance Mobile connection was pretty solid in the showroom and I was able to catch up on email. But I was summoned to a room towards the rear of the store and lost my wireless connection. There weren't any WiFi networks in range so I had to work in offline mode.
After I finished my emails I sat through a mini fashion show, offering my opinion when asked. I started to get bored of the endless stream of outfits and decided to entertain myself with the Envy. After about an hour of hearing my in-law's sometimes heated debate about which Saris to which event I popped in my Ultimate Ears i5v headset to listen to some music. Let's just say I really appreciated the i5v's noise isolation feature today.
The Envy 13's audio hardware and software make music sound much better than what I'm used to hearing on my phone and other notebooks. I edited some photos I shot earlier in the day and played a few levels of Modern Warfare 2. The Envy 13's hardly a gaming rig, but it's fine for playing quick single player sessions. The Envy 13 has an ATI Mobility Radeon HD4330 GPU, which offers enough graphics muscle to handle the latest game at toned down settings.
I really wished I had an Internet connection for the five hours I was stuck there, but I survived intact. Some of the store's employees brought us drinks and sandwiches to make the experience more comfortable. When all was said and done my wife and sister-in-law picked out some dresses that look great on them.