Did Apple kill their RSS reader for iPhone Safari?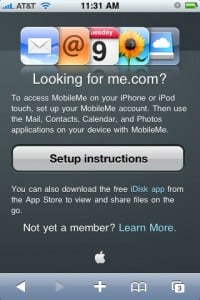 Checking my RSS feeds this morning, I ran across this message on my iPhone.
Normally, RSS feeds opened in Safari redirect to reader.mac.com and display in a simple form designed for quick reading. The Apple Core at ZDNet has a write-up of how it used to work. Doesn't work like that now. Instead, I'm given an ad for MobileMe, which I don't want or need.
Fortunately most of my favorite sites already have mobile versions (including GottaBeMobile), but not all. Worse yet, I have a few custom feeds put together in Yahoo! Pipes that only published as feeds. Thus, assuming the reader.mac.com change is permanent not a glitch, I may need to turn to a dedicated feed reader, something I've successfully avoided for years. Any suggestions are welcomed.

As an Amazon Associate I earn from qualifying purchases.