Did Apple Tease an iPad 2 at Unveiling of The Daily Magazine? I Say No.
At the launch of the iPad-specific news magazine, The Daily, Reuters is reporting that its eyewitness had witnessed an Apple iPad shown with a front-facing camera, suggesting that Apple may have toted an iPad 2 to the debut of News Corp.'s app launch.
While it is possible that Apple may have been carrying around un-released hardware to a public event, the scenario would be mark a shift from a tight-lipped company that controls news, leaks, and hype about its products. Apple has traditionally held a secretive attitude towards un-announced and un-released products in an effort to generate more buzz and consumer hype.
The second-generation tablet is expected to debut in the next few months; Apple typically has a one-year cycle for mobile products. The original iPad was released in March of last year. The successor is rumored to have both a front-facing camera for web calls and FaceTime chat as well as a rear camera. As the nearly 10-inch slate would be too big to carry around as a digital camera everywhere, it's unclear what purpose the rear camera would serve, though augmented reality apps may be a possibility as the larger tablet screen could display more information that could be overlaid on top of whatever images the camera is able to capture.
Despite rumors that the next-generation iPad was shown on stage with a front-facing camera, the device could still be a first-generation iPad. When the original iPad was demoed at its unveiling a year ago on stage by Steve Jobs, many had thought Apple had included a front-facing camera on that device, as the picture below demonstrates. However, that did not turn out to be true and the hole at the top center of the screen was instead the light sensor, which would automatically adjust the screen brightness depending upon the ambient condition around you.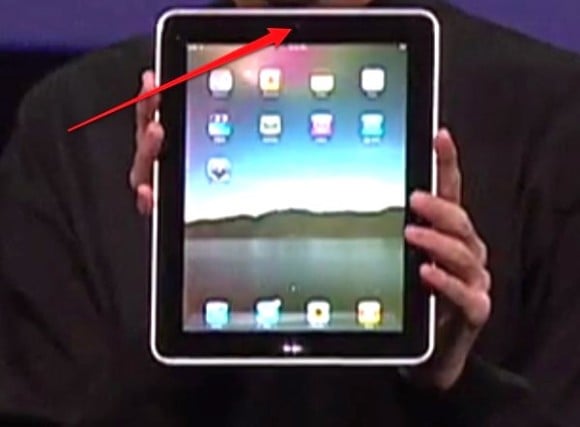 I think that the latter case–being an iPad with the ambient light sensor–is more probable given Apple's traditionally secretive agenda about un-announced products.
Also, while the iPad 2's display has been rumored in the past to be a higher resolution Retina-like Display, recent rumors state that the display may in fact be of the same resolution as the original iPad.
In its recent earnings call, Apple has stated that it had invested money into key component supplies, leading some, including myself, to speculate that the investment may be into factories and plants to fabricate high resolution displays for its mobile smartphones and tablet computing products. Apple's investments in key components would help keep the costs down for these core components for use in its products while ensuring that competitors may not have as easy access to these parts. In the past, the company had made similar investments in flash memory, ensuring that its iPod products were available with massive storage compared to competing products.
When the next iPad version gets released, that device would have to compete with a variety of Honeycomb-based Android 3.0 tablets that will hit the market soon.

As an Amazon Associate I earn from qualifying purchases.