Did Best Buy Kill The TouchPad? Should One Retailer Have This Much Influence?
Last year at the IFA technology show in Germany I was talking to a Lenovo rep about the company's laptops and told him I wished that they came in more exciting colors. He told me that the IdeaPad line did have some funky designs and colors, but that they came out in Asia, mostly, and not the U.S. Why? Because the Best Buy buyers would always give them the thumbs down, claiming that their customers wouldn't go for them.
When I pointed out that they could sell the more exotic colors via online retailers like Amazon or NewEgg, he said that it's hard to sell laptops online that people can't go touch in a store, even if they don't buy them there.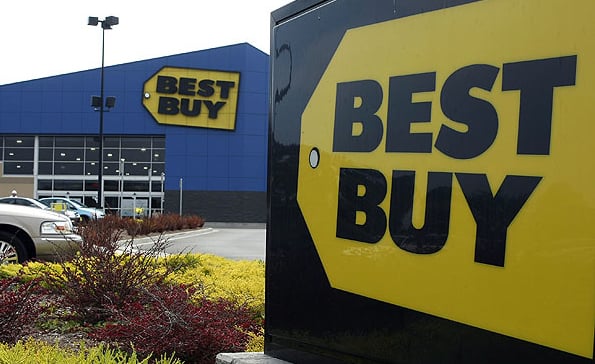 I've thought about that conversation a lot in the intervening months. Especially when Best Buy sold those cool red notebooks from Samsung last winter. Those didn't last much longer than a season, though, and pretty soon Samsung was back to black/white/gray color schemes just like everyone else. They didn't say so to me, but I've always wondered if that was Best Buy's influence.
Now that Circuit City is gone, Best Buy is the king of big box electronics stores nationwide. Regionally there are major players, and here in New York I know lots of people who'll head to B&H Photo Video before they'll set foot in the big blue. Still, Best Buy's power as a retailer can't be disputed.
So when the company complains about the low sales on the HP TouchPad, HP's execs fly to Best Buy headquarters without hesitation. And then next thing we hear is that the company is kicking the tablet to the curb. Coincidence?
It probably isn't fair to say that Best Buy killed the TouchPad. It would be fair to say that the retailer has a huge influence on the American electronics market. And if Best Buy says "People aren't going to buy this," is it foolish for a manufacturer to listen? Even if every other store stayed on board, device makers appear to feel that having their goods in Best Buy is what matters most.
This points to why having one big powerful retailer in a space is a bad idea for consumers and producers. Yes, you can buy laptops, tablets and other electronics at Wal-mart, Target, Staples, Office Depot and the like, but, those aren't the places most people think of and head to first. Especially since it's clear that the employees there often don't have deep knowledge of the products. (This can be true for Best Buy employees, too, but the perception is different.)
Putting that aside, if Best Buy told HP that the TouchPad was a no go and they wouldn't be able to sell the remaining stock, were they wrong? Wal-mart and Fry's Electronics weren't seeing great sales, either. Still, we didn't hear about HP execs flying to Arkansas for hurried meetings with Wal-mart, did we?

As an Amazon Associate I earn from qualifying purchases.