Did Google Update Google Voice in Preparation for Babel Unified Messaging?
With rumors about Babel–which has also been referred to as Babble in the past–Google's update to its VoIP-like Google Voice service may indicate that the company is preparing for a broader unified messaging service. Babel is intended to unify Google's many disparate messaging services and provide a common, threaded notification for users to stay on top of Google Talk, Messenger, Hangouts, and other Google-based services.
The Android update to Google Voice, which became available on Monday lists as its main feature 'improved reliability of SMS delivery.'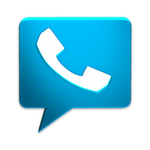 However, within the code, Android Police discovered that "Google Voice's configuration settings can now be read by other apps."
It's unclear what that is intended to do, but given that the update comes just as Babel rumors are gaining momentum, Voice settings can potentially be read by, and integrated into, Babel.
Since its release, Google Voice has been considered one of the more neglected Google services. The service allows users to sign up for a local or a vanity number, and then any calls that arrive on that number can be routed to other phones as well. This allows customers to maintain one singular number and have multiple phones ring at the same time when they get a call so they can decide if they want to answer the call on their work, mobile, home, or other line. The downside of Google Voice is that though the service does support SMS text messaging, MMS picture and video messaging is currently not supported outside of U.S. carrier Sprint, which had built deep Google Voice service integration.
With Babel, Google is at least expected to combine a number of its messaging services together to deliver unified notifications. Facebook, which had recently launched its Facebook Home UI launcher on a number of Android phones, had begun integration of messaging as well. With Facebook Home, Facebook now integrates SMS, MMS, and Facebook Messages into a picture-based notification system called Chat Heads.