Digital Comics Go HD on the new iPad
Reading comics will be a lot nicer on the new iPad's Retina Display, especially now that HD comics are rolling out.
Digital comics from DC, Marvel, Image, and others are now available at resolutions that fit the Retina Display perfectly.
Comixology already has an updated app in the App Store that supports its new High Definition Comics format, CMX-HD. The new format makes comics look much crisper and cleaner than they did on the iPad 1 and 2.
So far Comixology has 125 comics in the new format, which includes last week's releases. From now on every new comic added to the service will support the new format, and the company hopes to make all comics in the catalog available in CMX-HD in the next few months. For a full list of the comics available in CMX-HD, check this blog post from Comixology.
The HD comics make is much easier to read comics without the Guided View option that focuses on one panel at a time. Although, even in Guided View the panels look fantastic when zoomed in. For example, here's an image of a panel from A Red Mass For Mars Issue #1.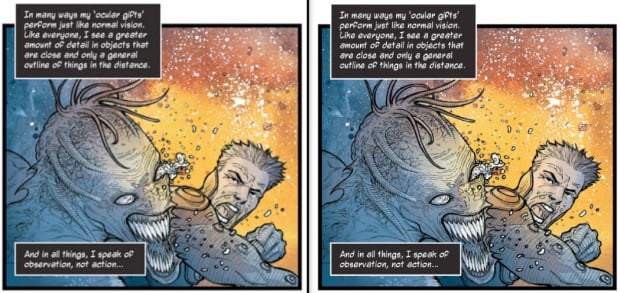 On the left is the panel on an older iPad, the lines and text are fuzzy at best. On the right is the same panel from the new iPad. Notice how much crisper the image on the right looks, it's easier the read the text and the characters have clean lines that don't bleed into the background. Keep in mind that the panel on the right will look even better when viewed at its native resolution.
Here's another example of a different comic taken as a photo instead of a screenshot. The photo comes courtesy of @pablod on Twitter. This illustrates the difference the Retina Display has, even for comics that are not in the new HD format.
This layout of this image is the same as the one above, old iPad on the left, new iPad on the right. While both are legible, the new iPad with the same comic is much easier on the eyes. It's like going from an older screen to a printed page.
The best part of the new CMX-HD comics is that readers get the new format at no extra cost. Just by having a new iPad you can get the high definition comics. They do take up more storage space than the older format, but given the higher resolution there's no way around that.
Even comics that don't use the new format look great on the new iPad, now they will just look even better. We can't wait to see the upcoming Avengers vs X-Men comics in high definition next month. The new file format couldn't be more perfectly timed.