Getting Started with digital forms – Infopath and Access 2010
One of the huge benefits of Tablet computing is the ability to extend digital work into the field. I think of the field as the frontier of personal computing. Currently, there are plenty of basic PDA solutions for field workers, but they often leave you going back to the car, truck, cart or the office to get any real work done on a PC.
Rugged Tablet PCs with digital ink input and outdoor screens can take all of the functionality you need right out to the point of sale, point of care, point of service or any other point that you have.
If you have a Microsoft Access or SQL server database that you use to collect data, you're in luck because buried in Microsoft Office is a super simple way to collect data in the field with digital ink using Microsoft InfoPath. If you don't use an access database you can still use this solution by linking to your data via ODBC.
To get started, you simply open a Table in your database and click on the "External Data" tab on the Ribbon (for Access 2010). Look for the "Collect Data" section and click on "Create E-mail".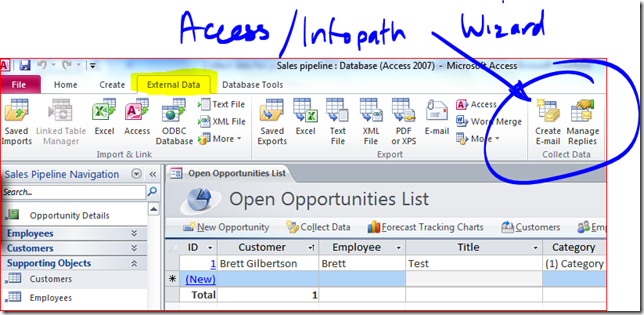 Run through the wizard and select InfoPath… I'll leave you to figure out the rest, but it is very straight forward for a reasonably tech savvy user. Feel free to post questions below.
Data is sent from the field via email through outlook. Replies are collected back in the office via a PC that is directly connected to your database.
The best part of it all is that you can collect your data with digital ink straight onto the form. No mucking around with the Tablet Input PaneI, just write on the form.
Voila! Your Access database is now field ready. Whilst I've demonstrated this in Office 2010, the same functionality exists in Office 2007 as long as you have InfoPath and Access.
From the Beta version of Office 2010, it looks as though InfoPath will come in a "viewer" and "designer" flavour which will hopefully reduce the licensing costs for InfoPath and drive adoption of the product.

As an Amazon Associate I earn from qualifying purchases.