Director Reveals More Super Smash Bros. Details
The new Super Smash Bros. won't come out until sometime next year, but in a recent video series director Masahiro Sakurai helped keep fans happy by giving them more information about the game.
The video starts off with Sakurai talking about the differences between the 3DS and Wii U versions of the new Super Smash Bros. The 3DS version of the game features a cel-shaded look with outlines for each character to help them standout on the smaller 3.5-inch screen. The Wii U version uses more primary colors to make the characters look better in HD.
While both versions of the game will feature the same character rosters, each will have a few unique arenas. The unique arenas in the 3DS game will come from handheld games like Nintendogs and the DS Zelda games. The Wii U game will have more arenas based on console games, like Legend of Zelda: Skyward Sword on the Wii.
Sakurai then goes into detail about the three new characters announced for the game so far. The first is the Village from Animal Crossing, who is all about collecting items. The Villager can pickup and toss back almost anything in the game, from items to projectile missiles and even Mario's fireballs and Samus' charged shot.
The Villager will also use tools and items from the Animal Crossing series. He can capture enemies with his net or bury them in a hole with his shovel and drop a bowling ball on their head from a higher platform.
The next new character, Mega Man, comes from Capcom. Sakurai said he's careful about what non-Nintendo characters will join the game, though Mega Man seems like a perfect fit for the series. The blue bomber will use his buster as his main attack, but will also use powers from enemies in his game such as Blade Man and Crash Man.
Mega Man's dog Rush also appears in the game as his way of recovering from a fall using Rush Coil.
Finally, Sakurai talks about the surprising new character in the game: the Wii Fit Trainer. The Wii Fit Trainer helps players get healthy in the Wii Fit franchise, so all of her moves come from yoga poses and workouts in the game. She is perhaps the most surprising character to make their way into the game, but her fitness-focused fighting style looks like fun.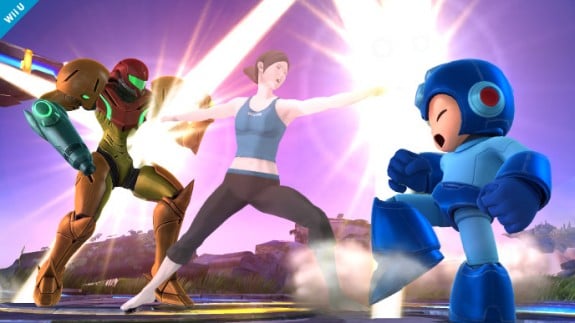 The Wii Fit Trainer is the only new character with an announced Final Smash, called Wii Fit, that attacks all enemies with colorful copies of the trainer in different poses.
The new Super Smash Bros. will come to the Wii U and 3DS sometime in 2014. The game may feature a larger roster than Super Smash Bros. Brawl, and the team will likely announce new characters in the months leading up to release.