Disney Infinity 3.0: 3 Things to Know 
You'd never know that video games used to be mostly digital experiences judging by the amount of titles we have available with add-on figures. Skylanders started the craze years ago, but lately it's been Disney Infinity that's captured the imagination of gamers everywhere. With Disney Infinity 2.0, Avalanche Studios added Marvel characters to its line-up of figures and digital playsets. A recent cover article for GameInformer finally confirms plans to continue dominating the space this holiday season with Disney Infinity 3.0.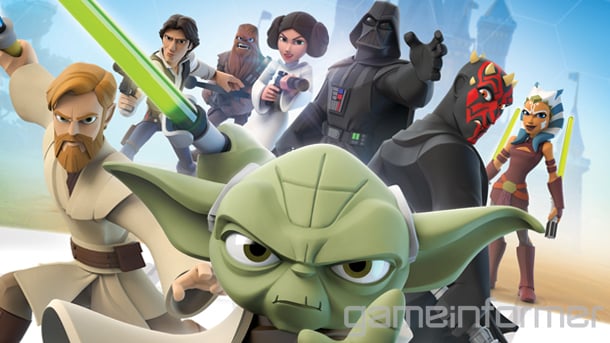 Disney Infinity 3.0 is all about Star Wars and big upgrades to the mechanics that many already know and love. Here are 3 things to know about Disney Infinity 3.0, the latest edition of Disney's figure and video game franchise.
Mechanics & Power Discs Revisited
Often games like Disney Infinity 3.0 are described as cheap in the sense that they offer shallow mechanics just to keep you buying expensive figurines and add-on packs. Many would argue a game is only cheap if it's a sequel that's solely meant to milk what made the original successful. If that's true than Disney Infinity 3.0 doesn't appear to be Disney gratuitously trading on the popularity of its animated characters. Avalanche and its partners are rethinking a lot of the core experience to improve on the game.
Disney Infinity 3.0 will reintroduce melee combat for a better action feel, which the series really needed after Disney Infinity 2.0. Developer Ninja Theory says that it's tweaked the combat to make it more in-depth than in previous titles. Sumo Digital, another small developer on the project has tweaked the game's driving mechanics for what is being described as a "smoother experience." All of those changes carry over to the game's Toy Box mode.
Toy Box Mode itself is getting a new farming system and a hub world that lets players easily manage their activities. It's not a new game mechanic strictly, but Avalanche seems to have heard the feedback about how it packages Power Discs. Going forward, Disney Infinity 3.0 players will be able to see what a Power Disc does before making their purchase. Today, Power Discs packages don't let you see what's inside, making them sort of like a random card game.
Disney Infinity 3.0 Star Wars Are Coming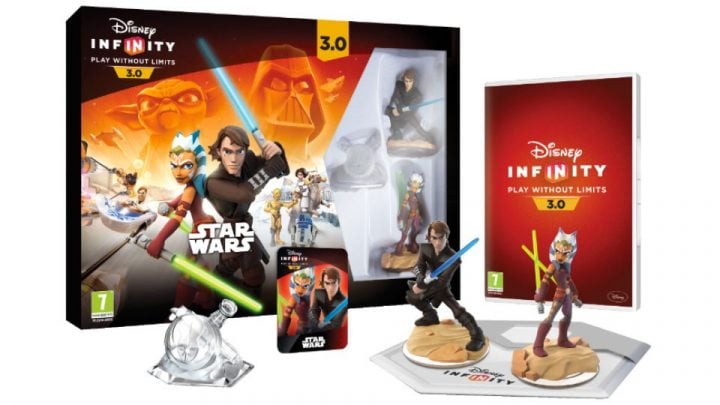 Avalanche Studios, the developer in charge of creating and maintaining the Disney Infinity universe, can add whatever software features they want. Even in their wildest dreams, they probably wouldn't be able to come up with something to get fans more excited than the addition of Star Wars Disney Infinity 3.0 figurines.
Disney Infinity 3.0 won't just try to get long time fans of the original series of movies, or relatively recent Star Wars fans into the fold. Instead of focusing on one area there are different content packs for different Star Wars fans.
Twilight of the Republic is what gamers get when they purchase the Star Wars Disney Infinity 3.0 Star Pack. Ashoka and Anakin Skywalker, who come in the starter pack, are trying to find out who is responsible for a legion of robotic forces. GameInformer's cover story notes that users can expect a few space battle in the Twilight of the Republic Story. This story is inspired by Star Wars: The Clone Wars.
Rise Against the Empire rolls through the entire first set of movies. It features Luke and Leia along with Darth Vader. Scenes include the planets of Tatooine and Yavin.
Players can purchase extra figures and add them to each of the themed content. For example, Chewbacca, Han Solo and Darth Vader figures will be on store shelves later this year for users to add to their collection and Rise Against the Empire for Disney Infinity 3.0. Obi-Wan Yoda and Darth Maul can be added separately to Twilight of the Republic.
You Can Keep Your Old Figurines & Pick Up New Ones
One of the most dangerous things you can do in video games is buy actual hardware for use in a game. What if the next version of the game doesn't support your old accessories? What if your old accessories are made redundant by newer accessories built specifically for newer versions of the game? Disney has thought of both possibilities here.
Classic Disney Infinity characters will still be compatible in Disney Infinity 3.0's Toy Box mode. Disney Infinity 3.0 will also borrow heavily from other franchises besides Star Wars. Disney's Inside Out is getting its own set of figures featuring Joy, Disqust, Anger, Fear and Sadness. A new Marvel Disney Infinity 3.0 playset will add Hulkbuster Iron Man and Ultron. Available separately will be Mickey Mouse, Minnie Mouse and other figures spotted by that huge Disney Infinity leak from a few weeks ago.
Read: Surprise Star Wars Disney Infinity 3.0 Star Pack Revealed
Disney Infinity 3.0 launches this fall on the Xbox One, Xbox 360, PS3, PS4, Wii U, PC, iPhones, iPads and Android devices. The Disney Infinity 3.0 Starter Pack will cost $64.99.

As an Amazon Associate I earn from qualifying purchases.