Disney Infinity 3.0 Impressions Ahead of Release
In the not too distant past video games were seen as things only children and young adults played to past the time. In no time at all, video games have become incredibly complicated productions, with story telling that maybe only fully developed minds can completely understand. The Disney Infinity series has always been the example of why that isn't necessarily the case. Disney Infinity 3.0 removes some pain points and adds some exciting new characters.
On my way to check out Disney Infinity 3.0 at this year's Electronic Entertainment Expo I never expected to actually like it. I've always been a fan of Disney characters myself, but the idea of playing in a digital sand-box and world didn't seem appealing to me. As described, the series always reminded me of those cheap licensed games that content makers have produced on a whim.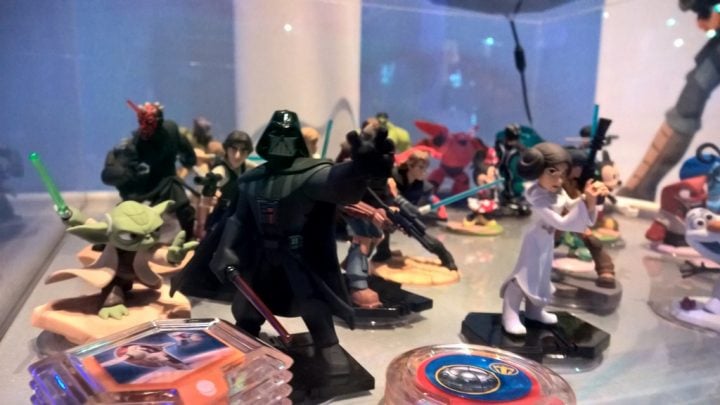 A half-hour conversation and time with Disney Infinity 3.0 were the only things needed to change my mind completely. I left the Disney Infinity 3.0 booth impressed, completely ready to purchase a Disney Infinity 3.0 Starter Pack the moment I can.
Disney Infinity 3.0 Impressions – A Star Wars All Your Own
The Disney Infinity 3.0 release date will be sometime this fall. Avalanche Software is still acting as lead developer on the franchise, but there are add-ons and experiences coming from multiple studios including Ninja Theory, Sumo Digital, United Front Games, and Studio Gobo.
Large display cases full of Disney Infinity figures acted as a gateway into the game's E3 2015 both. Disney Infinity is part of the burgeoning Toys-To-Life category. Like other titles in these types of franchises purchasing the game gets you a few characters and unlocks a few experiences. To get the rest and expand your stable of offerings you need to purchase more physical characters. Disney Infinity offers everything from Mickey to Marvel superheroes today. Disney Infinity 3.0 adds figures from the Star Wars Universe to the fold.
I played as one of those new characters during my time at the Disney Infinity 3.0 booth. A booth attendant allowed me to ask a few questions about what she was doing and then placed a Ahsoka Tano figure on the play pad connected to a PS4 for me to use. The Disney Infinity 3.0 Starter Pack will come with Anakin Skywalker and Ahsoka Tano figures. Disney also calls this pack the Twilight of the Republic Playset, since there'll be multiple campaigns for Disney Infinity 3.0. Other planned figures include Yoda and Darth Vader.
Read: Every Disney Infinity 3.0 Figure We Know of So Far
Disney Infinity 3.0 Impressions – Your Own Experience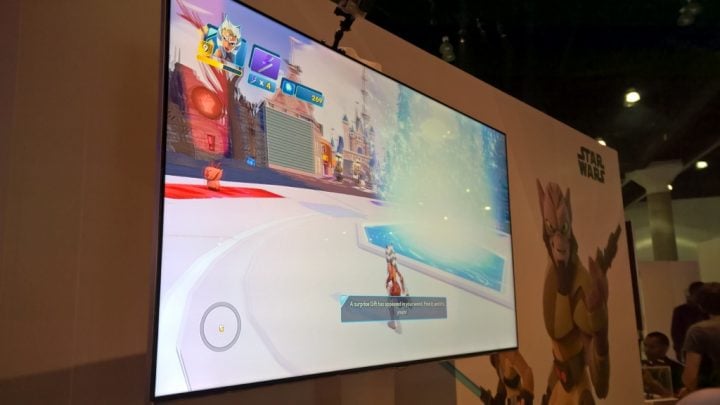 I thought I might start my Disney Infinity 3.0 experience chasing down bad guys are trying to find some missing friend in the game's campaign. Instead, I started in a garden, using Ahsoka to handle a weed infestation problem so that I could harvest some resources. I worked to clean up some of the weeds for a few minutes, then I asked to experiment with one of the other Disney Infinity 3.0 figures on-hand.
I was only allowed to experiment with Skywalker for a few minutes, but the switch in character left an impression on me. I wasn't expecting him to feel any different from Ahsoka, but he did. It took way too long for it to happen, but eventually I did get a little bored of weed killing.
The attendant took me to a hub world where I could access the different themed worlds Disney Infinity 3.0 had to offer. Here there was an infestation of a different kind running. Mainly, the place was overrun with bad guys. The attendant gave me a crash course and delivering some pain. Melee felt natural with single button presses letting you manage the action. Character movement turned out to be very fluid too, something I hadn't expected. In fact, It was just as good as the combat experience I've gotten out of other, more "sophisticated" games. Going after the specific enemies I wanted to just worked. Attacks seemed potent too. Enemies snuck up on me a few times, but I never felt like it was something that I couldn't handle.
Disney Infinity 3.0 Impressions – Conclusion
I walked away from my time with Disney Infinity 3.0 ready to purchase the game without hesitation. Mostly, I liked the idea of playing in differently themed worlds, but the mechanics were the real treat. Disney is promising more tasks like that harvesting and resource building. The free-for-all Toy Box area is getting some updates too.
Disney Infinity 3.0 has clean combat and decent combat mechanics at the very least. I didn't get to play it myself, but the story around the included- Star Wars themed campaign sounds interesting. I do still have reservations about the costs adding up. The Disney Infinity 3.0 Starter Pack alone will cost $64.99. Each figure will cost $14.99 separately, according to GameStop. To their credit Disney is at least removing the game of lottery that was buying power discs. Now each pack will come in clear plastic casing for everyone to see.
I'm impressed and I think series regulars and longtime players will be too. Disney Infinity 3.0 is coming to the Xbox One, Xbox 360, PS3, PS4 and Wii U.

As an Amazon Associate I earn from qualifying purchases.