Disney Infinity 3.0 Release Date Revealed
With just months to go until it's supposed launch, it was pretty clear that The Walt Disney Company would have to finally reveal a Disney Infinity 3.0 release date so that gamers and parents of gamers could prepare accordingly. New reports confirm that the Disney Infinity 3.0 release date is now set for late August.
Disney revealed the Disney Infinity 3.0 release date earlier today, according to a report from video game website Game Informer. More specifically, the Disney Infinity 3.0 will arrive on store shelves August 30th for those looking to purchase a console version of the game. There are plans for PS3, Xbox One, Xbox 360, PS3 and Wii U versions of Disney Infinity 3.0, covering just about any living room platform gamers could want to play the title on. For now, it's a bit unclear when iPhone and Android versions of the game might arrive.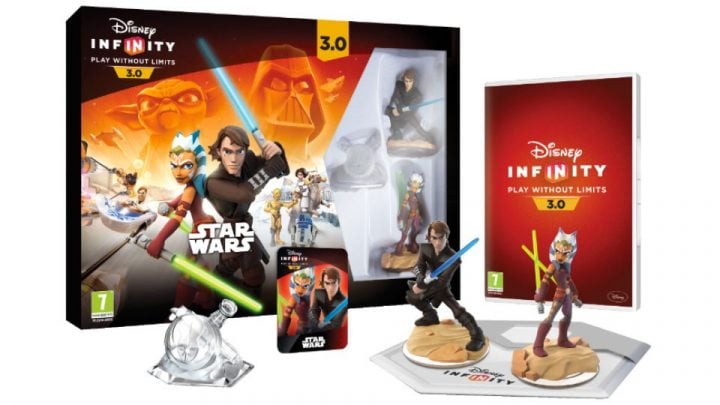 Read: Disney Infinity 3.0 Impressions Ahead of Release
Disney Infinity 3.0 release day will bring with it all the things that developer Avalanche promised to players. Those who have yet to experience a single Disney Infinity title will need to purchase the Disney Infinity 3.0 Starter Pack. This Starter Pack is formally titled the Star Wars Twilight of the Republic playset and includes a disc-based copy of Disney Infinity 3.0. Also included is a dedicated Disney Infinity portal so that players can drop the figures that they collect into their games. Two figures will come with this base playset: Anakin Skywalker and Ahsoka Tano. Both figures are inspired by Star Wars: The Clone Wars, a now cancelled show that ran on Cartoon Network in the United States. This base playset will cost $64.99. The game, figures and playsets can be purchased digitally.
Interestingly enough, Disney Infinity seems to be stuck in the middle of the battle between Microsoft's Xbox and Sony's PlayStation. PS4 and PS3 owners will get a dedicated Starter Pack that includes Rise Against The Empire access. Rise Against the Empire is another Disney Infinity 3.0 playset coming that features Luke, Leia and Boba Fett. Game Informer says that this bundle will cost $115, compared to the regular $65.99 bundle.
Anyone who pre-orders ahead of Disney Infinity 3.0 release day at some retailers – like GameStop – get access to the Toy Box Takeover without having to pay $20 for it this fall. Toy Box Takeover is set within the Disney Infinity Toy Box creation system and adds a new experience. In the add-on villain Syndrome has snatched the Infinity Wand and is using it to wreak all kinds of havoc on players.
Disney Infinity is one of the most popular entries in the burgeoning toys-to-life category of games. The premise of these games is simple. Users who purchase the base version of the game get to play as their favorite characters through story missions. Disney Infinity takes this a step forward by letting user build their own environments and game modes with the things they unlock. Collecting more figures unlocks new powers. Special add-ons and physical toy discs with power ups complete the experience.
Each successive year Disney Infinity adds new characters for players to collect and use in their games. Disney Infinity 2.0 gave players Marvel superheroes from its movies series. The same thing is happening with Disney Infinity 3.0. Set for this year's release are characters from Star Wars, Inside Out and the broader Disney universe. The Inside Out characters will come in a single $35 playset. Each individual character will cost $13.99.
Read: Every Disney Infinity 3.0 Figure We Know of So Far
Disney Infinity 3.0 characters and playsets will arrive in waves. The August 30th Disney Infinity 3.0 release date simply marks the first wave of figures and experiences. It's unclear when other waves might arrive.

As an Amazon Associate I earn from qualifying purchases.