Disney Infinity Toy Box 2.0 Arrives for iPhone & iPad
Disney Infinity Toy Box, the game that inspired new generations to create their own worlds and pick up dozens of Disney figurines, has finally come to Apple's iPhone and iPad.
Disney, one of the world's largest media companies, announced Disney Infinity Toy Box 2.0 for the iPhone and iPad earlier this morning. There's no need to wait for it. It's available for free right now in the iTunes App Store.
The free Disney Infinity Toy Box 2.0 app introduces a handful of new features for users to get excited about, whether they've invested in the companion line of toys and accessories or not. Downloaders of the app get 3 characters to try absolutely free and the apps release notes in the iTunes App Store indicates they'll rotate, giving players a reason to keep checking back. Just like in the console version, different Disney Infinity Toy Box characters offer different experiences.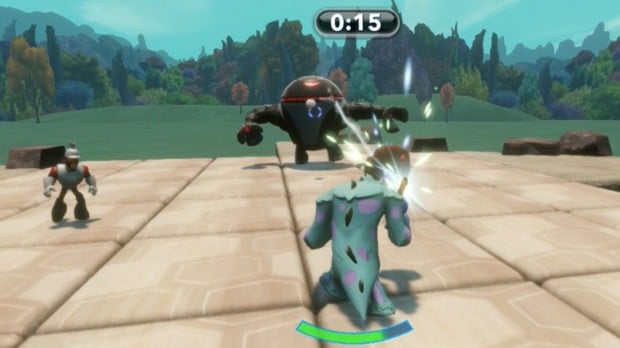 Disney Infinity Toy Box gets its name from the micro worlds that users create in-game. In fact, the game is one giant Disney-themed sandbox for players to create their own world and their own games within a game. In that way it's sort of like Microsoft's Minecraft. Characters available in the game include favorites from all of Disney's major franchise. The 2.0 update brought Marvel superheroes to the game for the first time. The Avengers, Spider-Man and the cast of Guardians of the Galaxy are featured alongside the cast of The Incredibles. There are also pre-made game types to play in too.
The sheer size of Disney Infinity Toy Box is a clear indicator of how detailed it is. Disney is only recommending that owners of the iPhone 5, iPhone 5s, iPhone 6 and the iPhone 6 Plus purchase the game. Anything beyond the iPad 2 should run Disney Infinity Toy Box 2.0 fine too. Players will want to make sure they have plenty of free storage space since it's a 4GB download. Disney says users can expect a great look game because Disney Infinity Toy Box 2.0 was optimized for the iPhone using the Metal features Apple added in iOS 8.0.
Syncing all the different versions of Disney Infinity Toy Box 2.0 are Disney accounts. It doesn't look as if this version will allow users to sync characters directly from the collectibles they buy. Instead, users will need to do that through the other versions of Disney Infinity Toy Box that are already available. Disney Infinity Toy Box 2.0 arrived on store shelves for the Wii, Wii U, PS3, PS4, Xbox 360 and Xbox One last year. Each starter pack comes with a boxed copy of the game and two characters. In most cases that's Stitch from the movie Lilo & Stich plus Merida from Frozen.
Players can pick up more characters to add to the game from places like GameStop, Wal-Mart and Best Buy. When characters are added to the console versions of the game, they should appear in Disney Infinity Toy Box 2.0 for iPhone and iPad.
One thing Disney is really careful to point out are the in-game purchases included here. Disney Infinity Toy Box 2.0 for iPhone and iPad is free to download, but it includes a ton of in-app purchases that'll cost real users real money if their credit or debit card is connected to their iTunes Account. That being said, Apple has made it very hard for children and those without an account password to make in-app purchases. These purchases start at $.99 and balloon to $59.99.
Disney plans to roll out Disney Infinity: Disney Originals toy box packs on February 3rd. It'll cost $34.99 at GameStop and feature characters from Aladdin.

As an Amazon Associate I earn from qualifying purchases.