DIY: Make Your Own iPhone 5 Slim Case With a 3D Printer
If you've been searching for a slim iPhone 5 case and nothing out there is fitting your needs, you can try this customized case that you can make at home as part of a do-it-yourself project. All that's needed for this DIY project is a 3D printer and some patience and you can craft your own slim case for your Apple smartphone.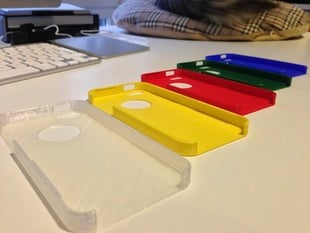 Instructions and the templates for the iPhone 5 case have been posted over at ThingsiVerse. With reports of scratching issues being the 'norm' for the iPhone 5, users who have access to a 3D printer may want to give this case a shot as it's simple, inexpensive, and will be slim and protective.
There are different version models and templates on the site, so you should go through and read about what's changed through the revisions and which template number suits your needs best while retaining the design you desire. If you do decide to pursue this DIY project, let us know in the comments how the results turned out and snap a photo or two. Just watch out for the purple flares when using the iPhone 5's rear camera to take photos of your newly minted case(s).