Do You Skin Your Tablet PC?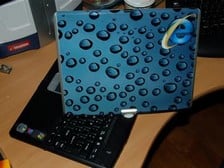 I know Mark "Sumocat" Sumimoto has skinned, or decorated his Electrovaya Tablet PC. This morning I saw this post by Maurico Freitas about skinning his Tablet PC. Since I beleive Tablet PCs put the personal back into personal computing, I'm just wondering, Do you skin your Tablet PC? I don't, but perhaps you do. Leave a comment with a link to pictures if you do.

As an Amazon Associate I earn from qualifying purchases.