Do You Write with a Loose Grip?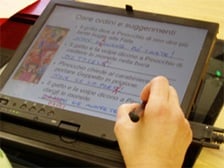 I have to plead guilty to a 'no' answer to the question in the headline. But Mark 'Sumocat' Sumimoto may have convinced me to change my ways. He's argued before about using a loose grip when writing with a pen or stylus, and he's pointing to an article on D*I*Y Planner that seems to reinforce this.
You certainly can't argue with Sumocat's results as his handwriting is a pleasure to read.

This article may contain affiliate links. Click here for more details.