Documents To Go on iPhone Now Available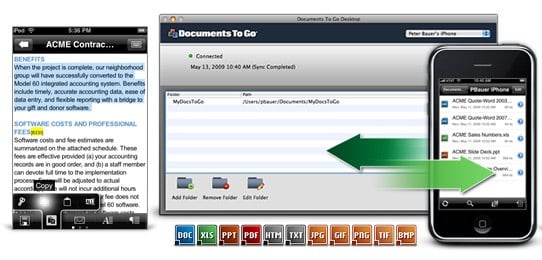 As much as I would like to get away from documents and spreadsheets that are created in Microsoft Office products I just can't. Too many colleagues I deal with on a regular basis, and myself are tied to that way of working. Since I use multiple devices, I explore quite a few document syncing options on my various devices. Since I am cross platform, using both Mac and PC hardware, I'm most attracted to solutions that let me use whatever platform I have at my disposal at the moment. More and more these days, this happens to be the iPhone.
Of course just being able to read and review documents is one thing but being able to make edits is another. There are several solutions that allow me to have documents at my fingertips but only two I've tried that allow me to do some editing. The first, QuickOffice, has worked well for me. DataViz has just released Documents to Go, their iPhone App (actually two of them), and I'm giving it a try as well.
At the moment, Documents to Go will only allow you to edit Word Docs but there is a promised update to allow the same for Excel docs as well. This update will be free to folks who purchase the current version. QuickOffice currently allows you to do both.
DataViz's introductory price is $4.99. For those who use Exchange and need to work with attachments there is a version for $9.99.   That is considerably cheaper than the QuickOffice solution at $19.99.
Documents To Go requires you to install software on your desktop or laptop in order to transfer files and you can do this with multiple computers. I'm just getting started with Documents To Go and so far, for my purposes, things are working as I need them to. This does feel very much like a version 1 product at the moment, but it offers promise.
Matt Miller did a pretty thorough video review of the application which is worth taking a look at if you're interested.


This article may contain affiliate links. Click here for more details.