Does The Kindle Offer Hope For A Slate Form Factor?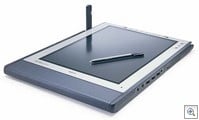 Loren Heiny sees some hope for fans of the Tablet PC/UMPC slate form factor in all of the hoopla and the initial selling out of the Amazon Kindle.
This is a trend that I hope Tablet designers are paying attention to. Why? Because for the most part over the last couple years it appears that the Tablet PC designers and marketers have resolved that the slate form factor (for the most part) wasn't where the majority of the market potential was and "convertibles" were the "right" form factor, I think they got it wrong and these new devices are going to be teaching them a lesson.

Microsoft had it right with its prototype orange Tablet PC and better yet with its Haiku UMPC design. Even NEC's LitePad (Ed note-pictured)was a smart design–among others. Generally, the thinner, the better. The easier to use, the better. I'd also add the cheaper, the better. To me the OEMs and Tablet PC marketing has lead the Tablet PC to a nameless, homogeneous, fairly uninspired collection of notebooks.
He might be on to something, but I'm not sure that Amazon's eBook reader is the kindling that is going to light the fire. I've seen responses all over the map about the Kindle ranging from Rob's excellent balanced coverage (here, here, here, and here) to Robert Scoble's reeling rant. I think the jury is still way out on the Kindle, at least in this first edition of the hardware.
What Loren is correct about his is analysis as to why the slate factor has never taken off. Microsoft and NEC did have it right in the beginning and somehow that got lost in a big way.

This article may contain affiliate links. Click here for more details.