Does The Volkswagen iBeetle Represent the First iCar?
Volkswagon arrived at the Shanghai Motor Show with the iBeetle, a special edition Beetle that features iPhone integration in the dashboard of the vehicle — leading many to call it the first iCar.
When entering the iBeetle, the driver docks his or her phone with the dock placed at the top of the dash. It then integrates with the vehicle showing information about the vehicle on the phone's display. This is the first vehicle from any manufacturer to target iPhone users directly with the "i" naming structure. Clearly, they are attempting their own version of the iCar.
The iBeetle requires a special app to be running on your phone, either connected through the dash-mounted docking station or wirelessly through Bluetooth. The driver has the ability to control Spotify or iTunes through the integrated factory controls. The drive also can view performance information, such as a G-meter to track cornering performance, and a chronometer to track the driver's lap times.
It will also post to Twitter or Facebook your fuel economy information and read your latest messages to you. Lastly, it even features an achievements system to reward certain driving behaviors.
Apple fans that are expecting the iCar might also be interested in the additional cosmetic features of the iBeetle. It features available color schemes "in a nod to the iPhone's color scheme" such as "Candy White" and "Black Monochrome." It will also feature special iBeetle badges and wheels.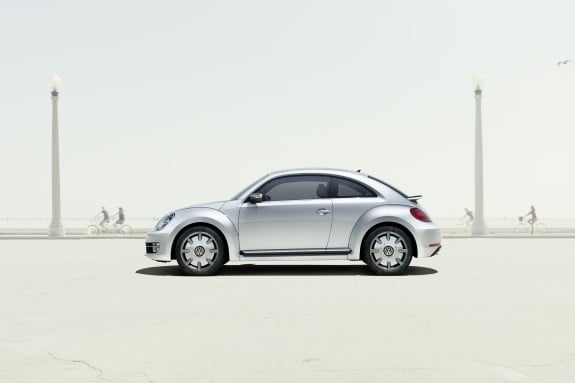 Interestingly, the iPhone special dock will not be available à la carte for iPhone users who want to order their Beetle in a different trim configuration. Perhaps that is VW's biggest Apple move of all; telling the consumer what they want.
Read: $69 iPhone Gadget Turns Any Car Into iCar
It was also be interesting to see how VW implements the dock in relation to the connectors for the various iPhones. Volkswagen has not yet mentioned which iPhones are compatible with the system, though the press images show an iPhone 5 docked into the system.
The iBeetle will be available in early 2014 globally with no word on pricing.