Does This Look Tailor Made for a Mobile PC?
I ask you, doesn't this look tailor made for a mobile pc while doing some air travel? Qantas has announced that it will be offering WiFi and electrical outlets on its new fleet of A380's and the remodeled 747—400s. Don't you wish every airline would do this? No word on how much this will add to the cost of the flight.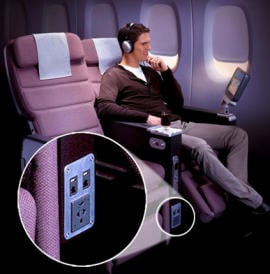 I think Qantas should fly the entire US GBM Team over to Australia to meet with Hugo so we can try out the new offerings and report back.
Via Engadget

As an Amazon Associate I earn from qualifying purchases.