DomeSkin 3D Protection & Customization for iPad, iPod, iPhone
DomeSkin protects your iPad, iPod, iPhone or Blackberry with style giving you more grip than a normal thin mobile device skin. Skins usually have more to do with showing off your personality than really offering much protection, but with DomeSkin you do get a little more for two reasons. First, the skin pads the device and, second, the material has a grip to it, lessening the risk of a drop. However, the thick skin precludes you from keeping your device in a more protective case unless you use a generic case or sleeve that isn't form-fitting.
The company calls their product 3D. Terms like 3D and HD suffer from overuse in the tech accessory industry. Companies think consumers sheepishly flock to such products and they may. With DomeSkin, however, you do get a kind of 3D look thanks to the raised padded material used to make these attractive and colorful skins. DomeSkins round off the sharp edges of the iPhone 4 and 4S or front of the iPad. The collection of patterns available should match the particular tastes of most people. When you buy a DomeSkin you also get a matching wallpaper for your device via email.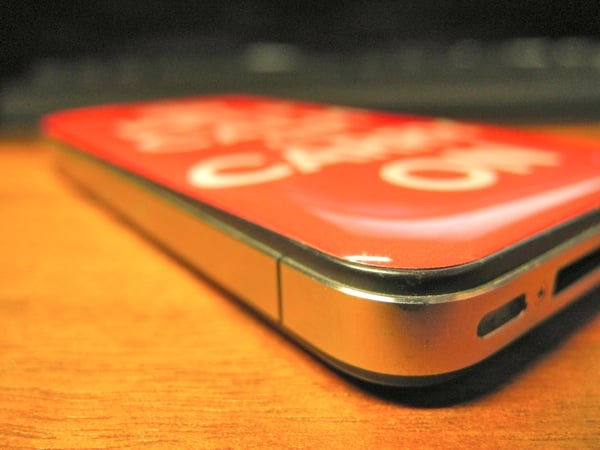 I've never liked skinning my devices. I'd rather run with just a case or totally clean. DomeSkin changed my mind, somewhat. Of all the skins I've used, it's the only one I would actually leave on my device for any length of time, especially if I carried my iPad or iPhone in a sleeve case. My son's been using the it on his iPhone exclusively for a couple of weeks and loves it. He loves how the non-skid material keeps your device in place, even on slick glass surfaces.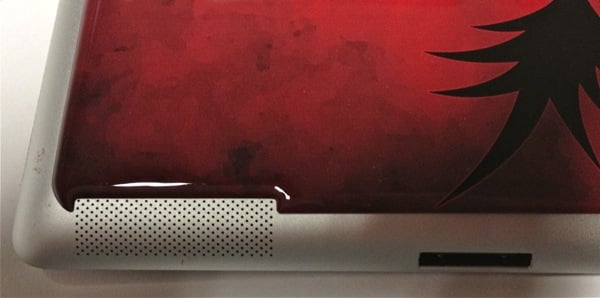 If you don't like the patterns available from the company, you're out of luck. Unlike other skin companies, like Gelaskin, they don't have an option to upload your own graphic. The available skins look cool while protecting the surface of the device from scratches.
DomeSkins have enough padding that they will cushion the delicate glass front and back of an iPhone 4/4S. However, they don't protect the edges, which is where you are most likely going to drop your device.
Also, thanks to the thick makeup of the skin, these truly can be reused. You can remove the skin from your device, clean the device and reapply the skin. The 3M adhesive used to stick to the device holds the skin in place but not permanently like a sticker. Think Post It Note instead of sticker, but with a stronger bond.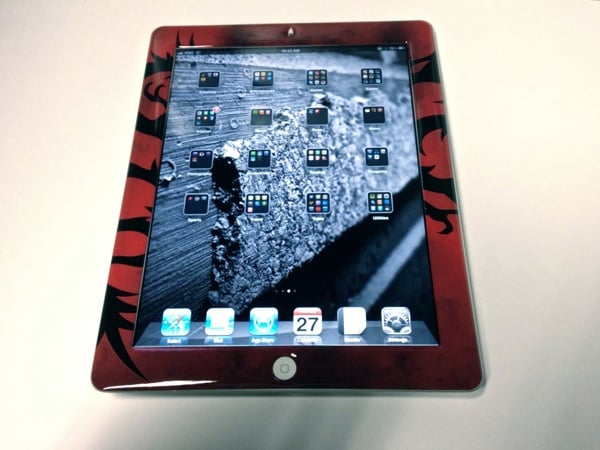 If you like to skin your mobile gadgets and that's all you use to cover them, DomeSkins offer the best device protection and re-usability of the class.
You can buy one for every iPhone ever made. You can also get one for both iPads available as well as all iPod Touches, 3rd-5th gen iPod Nanos and 5th or 6th gen iPod Classics. They also offer skins for most Blackberry models. All iPhone, iPod and Blackberry skins cost $19.99 and iPad skins are $29.99 directly from DomeSkin.
Pros
Thick padding more protective
Attractive designs
Can be removed and re-applied
Adds a 3D look to flat devices
Non-skid surface keeps a device from sliding on slick surfaces
Cons
No custom skins with your uploaded graphic
No skin protects edges of device
Can't use another protective case due to material's thickness

As an Amazon Associate I earn from qualifying purchases.