Don't Buy a HP TouchPad, Pre or Veer — No Matter How Cheap
The shot heard 'round the tablet world today came from HP, at least for this week, as they ceased production of WebOS devices entirely.
As a result you may begin to see steep discounts on the many WebOS devices already in stores as they try to unload a dead product.
Don't be fooled. Do not buy an HP TouchPad or any WebOS phone no matter how sweet the deal might look. You would be buying into dead ecosystem because tablets are far less about the hardware and more about the apps.
You wouldn't buy a dead rose-bush at the florist, so don't bother with a dead tablet or smart phone either.
Going forward only the most extreme and ardent fans will develop apps for the TouchPad. Yeah, both of them. Kidding aside, there were not a lot of developers on board anyway. Those that did adopt WebOS will surely be jumping ship with this news. Without apps, the platform is dead. This is especially sad because WebOS was shut down before it ever really got going.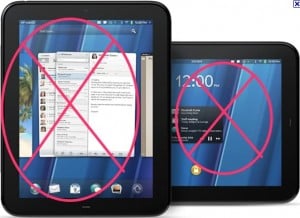 In addition to avoiding the HP TouchPad, you should also avoid the Veer and the Pre. This may not be a big issue, since neither phone was much of a looker. As attractive as I thought the TouchPad was, looking at the Veer made me cringe. The Pre was a little more attractive, but still not something I'd ever have wanted. Customers agreed.
Expect to see huge discounts like TouchPads for $299 or lower. Expect free Veer and Pre smart phones. With a two-year contract you will be stuck for a long time with a device that will never get any better and may have little support even from the manufacturer.
If you are not enamored with the iPad, two good alternatives are the Samsung Galaxy 10.1″ Android tablet and the ASUS Eee Pad Transformer, both of which should have support for the foreseeable future as Android devices. Even if Samsung and ASUS pulled an HP with their support of these tablets, you will be able to get apps for years to come to keep them fresh and useful.
Update: The Veer, TouchPad and Pre will be killed off in Q4 2011.