It hardly seems like it but, almost three years ago Microsoft gave us our first look at the original Surface. That device was something we'd hardly ever seen from Microsoft in the hardware space. It was ambitious; Microsoft hoped that the Surface would be to Windows what the iPad is for Mac OS: a companion, something to get if you didn't need a full experience. A year later it announced the Surface 2, a device that righted the wrongs in the original Surface's design and packed more power in a smaller package.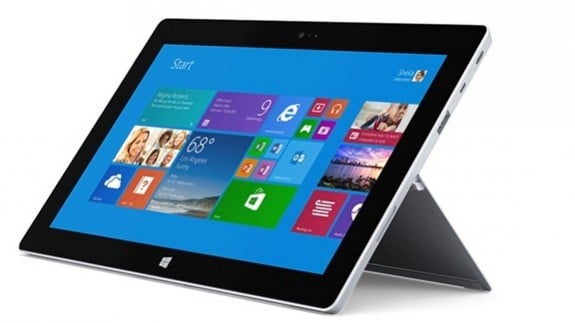 Understandably, there are people out there who are going to see the Surface 2 on store shelves and consider picking one up. I wouldn't say it's unreasonable to assume that eBay will be flooded with Surface 2s being sold at a more reasonable price either. Here's the thing though, don't buy a Surface 2. In fact, don't buy a Surface 2 even if you can get it at a ridiculously decent price.
There Are Better Tablets
First, it's important for that you realize the Surface 2 was designed to address the concerns users had back in 2012 and 2013. That wasn't so long ago, but it's been long enough that the devices we have today match the Surface 2's capabilities for a lot less.
The Surface 2 was designed to be a tablet that could fill in for a notebook PC when it was required. Thanks to its keyboard – which Microsoft still sells separately – it was able to do that. Unfortunately, the Surface 2 was also designed to be an iPad rival and that meant including what's called in ARM processor inside. ARM processors aren't the same as what you get in other Windows devices and that meant a custom version of Windows just for it called Windows RT. Windows RT allowed Microsoft to deliver great battery life, but Microsoft also made the decision to not let developers create new apps that work in its Desktop. Instead, Windows RT is completely dependent on the Windows Store, which doesn't have the great of an app selection as it is.
Today, there are tons of tablets and convertibles that have great battery life and allow users to download Desktop apps when they're required. The Surface 2 and Surface are a solution that have outlived the original problem they were supposed to solve.
It's Been Discontinued
Microsoft was apparently among the first to notice that the Surface 2 had outlived the problem it was attempting to solve. Earlier this week the company confirmed that it'd already stopped making new Surface 2 devices. What's more, its online store is sold out of the two Wi-Fi models users would have been more likely to purchase. Retail stores and online shopping sites still seem to have Surface 2's though.
The Surface 2 not being made any more has very little ramifications today, but big consequences in the future. Slowly, cases and hardware accessories will get harder to find. It'll be even harder to find chargers that'll work exclusively with the Surface 2. Neither of these are big problems for buyers who simply plan on using the Surface 2 as something temporary. For users looking to stay with the Surface 2 for the long haul, they're a big caution sign.
Microsoft's Promised "Support" Isn't Enough
The reason so many journalists were waiting for a comment on the Surface 2's life cycle was Windows 10, Microsoft's upcoming operating system for notebooks, desktops, smartphones and tablets. The company had been expected to confirm upgrades for Windows RT, the software that powers the Surface 2 and the original Surface, at a media briefing showcasing the operating system. That's not what they got though. Instead, Microsoft revealed that it was working on an update that would bring some of Windows 10's features to devices running Windows RT. Put another way, Microsoft has no plans to update the Surface and Surface 2 to Windows 10.
Read: Windows 10 Price & Features Revealed
What that means is that any bug, any parts of the Windows RT software that you don't like don't stand a very good chance of being updated. Worse yet, Microsoft only confirmed it was exploring an update. The company didn't say what that update would include. It's possible that Microsoft is simply planning on adding a few extras that some users will appreciate. It is also entirely possible that Microsoft could decide it isn't worth significantly upgrading the Surface 2 at all. The company has a track record of somewhat lackluster hardware support already. After teaming up with Nokia and other companies for Windows Phone 7.5 smartphones, Microsoft announced that none of the devices already in users' hands would get Windows Phone 8, the next major upgrade.
If you're looking for something to read on and maybe browse the internet, there's nothing inherently crazy about purchasing a Surface 2 at this point. Prices on the remaining units in stores are going to drop pretty quickly. The Surface 2 makes a great email machine and an even greater airplane companion. Still, I'd recommend against buying one if you're looking for anything else.

As an Amazon Associate I earn from qualifying purchases.