Don't Buy a Surface Pro 3 Right Now
The world had already moved on by the time Microsoft was ready to show off the Surface Pro 3. The first Surface Pro was chunky and had a problem with battery life. An expensive price tag and lackluster options for using it as a tablet doomed it to being a hobbyist's dream. The Surface Pro 2 took some steps in the right direction, but also suffered from some of the same issues. It could easily fall out of the lap and Microsoft's 10.6-inch display made it feel too cramped to be a notebook replacement. The Surface Pro 3 changed everything for Microsoft. The company finally got it right; it finally managed to make a device that was both attractive and had something to offer a broad set of users. Suddenly, Microsoft has everyone's attention again.
The Surface Pro 3 is a terrific device, you just shouldn't buy one over the next few months unless you are very, very sure you like the features the device has today.
Surface Pro 3 & Windows 10
In Microsoft's new world, software and hardware finally work together. They blend, complimenting each other's strong points. The free Windows 10 upgrade that Microsoft released last month accentuates the pros of having a Surface Pro 3 in a lot of ways.
Windows 10 has a feature called Continuum. Continuum isn't something that you'll find in Windows 10's settings, Continuum is the part of the operating system that lets users switch in and out of the new Tablet Mode. Attach a keyboard to the Surface Pro 3 and Continuum asks you if you'd like to turn off Tablet Mode. In Tablet Mode every app and program is full screen and so is the Start Screen. Microsoft added some behind-the-scenes software changes so that users can set this transition to automatically happen.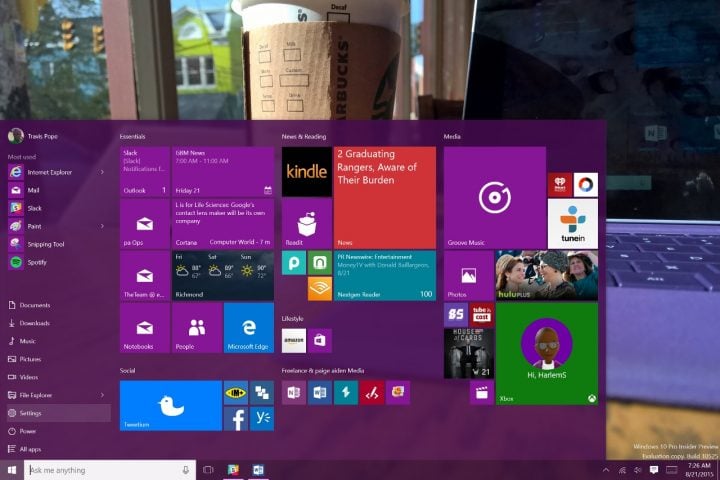 There are Windows 10 features available that Microsoft has no easy software fixes for. Announced this past summer and built into Windows 10, Windows Hello is the software that makes it possible for Microsoft and its partners to replicate the ease of Apple's TouchID fingerprint reader on the iPhone. Windows Hello connects to fingerprint readers or Intel RealSense camera. Step in front of a computer with Intel RealSense built-in and it automatically unlocks, no button press required. The fingerprint reader system is just as simple on notebooks equipped with it. The Surface Pro 3 doesn't have a Intel RealSense Camera or a fingerprint reader.
This means that it can't use Windows Hello. If you like easily unlocking your device, the Surface Pro 3 can't do much for you today beyond picture passwords and PIN codes. The future of security is at hand and the Surface Pro 3 is going to be left behind. If you already have one, it's not a big deal. If you're looking for some hardware that'll best take advantage of everything Windows 10 has to offer, hold off for now.
Surface Pro 3 & Surface Pro 4
Microsoft launched the Surface Pro 3 more than a year ago. In the electronics industry, that means the company is likely close to releasing a successor. Rumors are that this successor will be called the Surface Pro 4 and that an announcements it almost at hand.
Read: Surface Pro 4 Release & More Rumored for October
WPDang, which has a decent track record, believes that Microsoft is planning a huge hardware event for September. Besides new Lumia smartphones and an updated Microsoft Band, word is that a Surface Pro 4 will be revealed at the event.
If you like the basic features of the Surface Pro 3, there's good news. Microsoft has already said that it's committed to that design. Last year the firm revealed that docks and chargers that companies have already invested in would work with later versions of the Surface Pro. That practically locks in screen size and form factor.
Read: Skylake is Why Buying a Windows 10 PC is Smart
There's still plenty of stuff Microsoft can add. Intel has new Skylake processors that allow Windows 10's Cortana personal assistant to wake itself without a button press. Certainly, Microsoft will want some kind of sensor in the Surface Pro 4 that takes advantage of Windows Hello. The promise of these new technologies, plus Microsoft's commitment to the Surface Pro 3 form factor puts users in a great situation. The risk that Microsoft ditches a highly coveted feature is minuscule and the possibility that Microsoft will add a new hardware feature that makes the Surface Pro an even better Windows 10 show case is high.
Users are better off waiting until September to see what Microsoft has in store.
In no way am I tearing down the empire that Microsoft has built with the Surface Pro 3. It's a terrific machine, one that continues to serve me well every day. For new users though, I'd say it's been time to take a "Wait & See" approach since late July. There's no need to invest in hardware that's a year old if waiting just a bit longer gets you more options.

As an Amazon Associate I earn from qualifying purchases.