Don't Buy a Cheap Black Friday Android Tablet
The holiday season and Black Friday shopping is almost here. We'll be seeing deal after deal surface and sell-out over the next month or so, but there's a few "deals" that must absolutely be avoided at any and all costs.
When it comes to buying a tablet there's a few things you all need to know. What are these deals that you must avoid? All the "Android Tablet" and "Google Android OS" tablets that will be appearing over and over again. If you see a "Google Android" tablet for $49, or even $79, it's in your best interest to completely ignore these "deals" and keep on walking or shopping. If it's under $100 you probably shouldn't buy it. We all love holiday shopping and the Black Friday craze, but don't get stuck with a worthless Android tablet paperweight this year.
While roaming the halls at Walmart on Thursday night or Friday morning you may run into that RCA 7-inch "Google Android" tablet for a mind-blowing $49, or a similarly priced offering at CVS when all regular stores are closed at 9PM Thanksgiving day or on Christmas eve. They'll even have an "official Android tablet" sticker of some sort, but that doesn't mean anything, and you shouldn't buy it.
It isn't just Walmart and CVS or the average corner store either. Places like Kohls, Target, Sears, and even Best Buy all have cheap tablets you should avoid. Things like the Kobo Arc, NOVO, Ainol, Arnova, Polaroid, MIDI, and even bigger names like Archos and Lenovo. If it's under $100 avoid it like the plague. If the box says things like capacitive touch display, TabletPC, Google OS, or even Android PC tablet. These are all signs of a Chinese knockoff and a complete waste of your hard-earned money.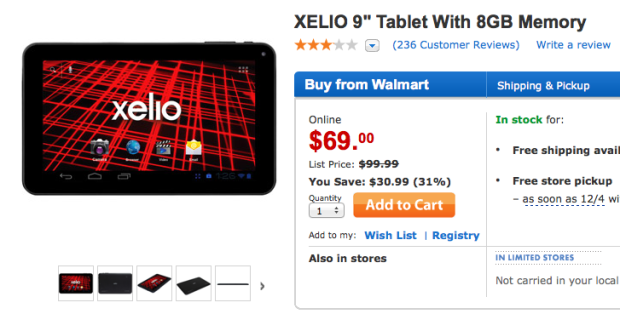 Android is a free open source operating sytem, one that anyone can use to release tablets and smartphones. This is a good thing and a bad thing, and as a result days like Black Friday the worst of the Android ecosystem comes out to play. One extremely important part of any Android device is having Google certification for apps, and of course the Google Play Store. What use is that tablet if you can't download or install any of the nearly 1 million apps from Google Play? A paperweight! Almost any sub-$100 slate won't have access to Gmail, Google Music, the official Google Play Store, or any of those must-need applications, although some do. And this is only half the battle. They'll be cheap, poorly optimized and run slow, not to mention probably never see an update to the latest software.
Read: Tablet Christmas Shopping? Consider These Options
If you need help with your purchasing decision this year you'll want to read the link posted above. We break down a few things to consider, what you'll actually want, and confirm that you'll want to stick to the four main tablet options worth buying. That being Apple's iPad lineup, Google's Nexus 7 and popular Android tablets (not the cheap ones) Microsoft's Surface 2, and then of course the Amazon Kindle Fire HD and HDX.
What To Buy
There are tons of deals floating around that will be excellent. Just last night I bought the LG G Pad 8.3-inch tablet for $174 from Newegg. Even at the regular price of $349 that is an excellent tablet worth buying if you see it on discount. Don't cheap out for a $79 device you'll use for less than a month. Google's Nexus 7 is still the best Android tablet to date, and last years model can be found for $119 TODAY from Groupon, and will be available for the next 8 days. At $119 no tablet can compete with it. This is 100% your best bet for a cheap Android tablet this holiday season.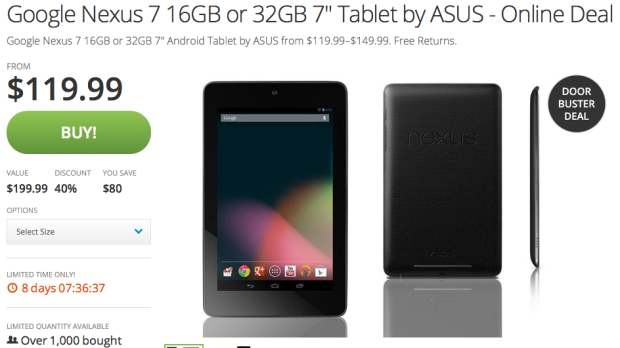 Spend $149 on a Samsung Galaxy Note 3, get the new 2013 Nexus 7 by Google and ASUS for $229, or even grab the iPad Mini from Walmart for $299 with a $100 gift card — essentially making it $199. Of course the iPad 3 or iPad Air is an excellent choice, but not everyone has $500 or more to spend on a tablet. Remember though, you get what you pay for, and $49 isn't a tablet worth buying.
In the end as far as Android tablets go I'd only recommend the Nexus 7 or new Nexus 7 2013, Samsung's Galaxy Tab 3 or Note 8.0, LG G Pad 8.3, or even the HiSense Sero 7 Pro Tablet, which is basically a repackaged Nexus 7 with the same quad-core Tegra 3 processor under the hood. You may find some decent Lenovo tablets, or even an ASUS MeMo 7, and they're good for the budget, but we'd still recommend the old or new Nexus 7 first.
It's a crazy world out there during Black Friday and retailers will be trying to mess with our heads. Stay vigilant and get a good deal, don't settle for a $79 Android tablet.