Don't Count on the iOS 6 & iPhone 5 Maps App in an Emergency
The iPhone 5 and other iOS 6 devices do not map emergency rooms reliably, which can be a serious problem for the sick or injured. Getting lost during an emergency or being directed to a medical facility without an emergency room while there are plenty of good ones nearby is the stuff of nightmares. Nightmares that will likely play out in real life if Apple doesn't get its act together.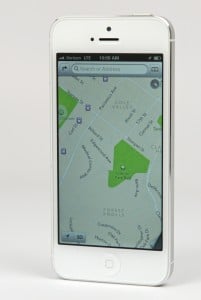 Apple's new iOS 6 Maps app has come under heavy criticism for not being as accurate as the previous Google-powered maps and it's instances like this that show just how poor Apple's new Maps application is. So what's causing the problem? Apple decided not to use Google's map data in iOS 6 and is instead relying on alternative mapping and waypoint data, primarily from Tom Tom.
Apple usually uses San Francisco in its demonstrations to show how users might use their iPhones to find things with Maps. In its most recent marketing efforts, Apple demonstrated how iOS 6 can help users book restaurant reservations, look up movie times, grab Passbook tickets for Giants game and perform other location-based tricks. The Maps app has the beautiful Flyover feature that displays San Francisco buildings in 3D. The Maps app can finally navigate iPhone 5 users around my hometown without buying a third-party app.
Read:How to Get Google Maps in iOS 6
iOS 6 vs iOS 5 Maps Comparison: Emergency Room
As we noted above, Apple typically demonstrates its apps in idyllic situations. What happens if you want to go out on a date in the city? What if you want to find a Sushi restaurant? That's all well and good, but what if you need the Maps app to do something urgently like find an emergency room for yourself or a loved one?
As you can see in the above video, the old Maps app running on an iPhone 4S nails the search "emergency room" on the head, offering up a smattering emergency rooms, including General Hospital's, which is the best place in this city for trauma victims. Tapping on pins reveals several alternatives, including UCSF and a pediatrics emergency room, which is exactly the place to go if you have a sick or injured child. Tapping on the pins provides the phone number so you can call ahead.
So what happens when you need to actually use the iPhone 5 to search for something really important like an emergency room? Nothing good.
Searching for an emergency room with an iPhone 5 brings up private medical offices, pharmacies and just about anything else medical related that's not a hospital or emergency room. Need a concierge house doc? Sure, he's mapped, but General Hospital is missing in action. That pediatrics emergency room? It's there, but it isn't marked properly.
The iPhone 5 is a significant upgrade to the iPhone 4S, but its Maps app is a serious downgrade. Some Apple fans are telling those unhappy with iOS 6 Maps to give Apple some time to improve the app, but people rushing to an emergency room don't have the luxury of time.
We recommend
pinning maps.google.com
to your iPhone 5 homescreen to prevent headaches. This Web bookmark will give you an iOS 5 maps experience on the new iPhone 5.

As an Amazon Associate I earn from qualifying purchases.