Don't Let the Sony Xpera Z1 Mini's Small Size Fool You. It Packs Plenty of Power.
Could this be the miniaturized Sony Honami that may be introduced as the Xperia Z1 Mini? A new blurry cam photo suggests that what we're seeing pictured next to BlackBerry's Q10 smartphone may in fact be a smaller version of the powerful Honami smartphone that could be introduced sometime in the future.
The Z1 Mini, or Honami Mini, has captured a lot of attention on the Internet since it was initially leaked as Sony doesn't seem to be making compromises when it comes to the device's powerful performance, despite the phone having a smaller footprint. Whereas the HTC One Mini and the Samsung Galaxy S4 Mini both compromise on non-essential specs, the Honami Mini is rumored to be keeping all the power that's been the center of the hype surrounding the larger-sized Honami smartphone.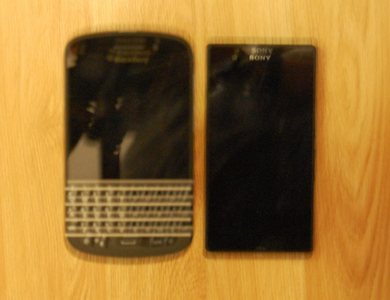 The image was posted on XDA-Developers, the original poster had hinted that the phone may be introduced on September 4th in Berlin prior to the start of the IFA trade show. This is also the same venue that the original Honami is expected to debut at, so Sony may be unveiling both phones on the same date.
READ: 9 Exciting Smartphone for Fall 2013
Included with the Honami mini or the Xperia Z1 Mini would be features like a powerful quad-core Snapdragon 800 processor, a 20.7-megapixel rear-facing camera with a larger sensor size traditionally found on point-and-shoot cameras and not on standard smartphones, and even a sleek design that accommodates features like dustproofing and waterproofing that were first introduced on the original Xperia Z earlier this year.
So what's changed between the Xperia Z1 Honami and the Xperia Z1 Mini?
Not much. Besides a smaller screen with slightly less resolution and a smaller battery, a natural effect of downsizing the smartphone's overall size, the Z1 Mini will be a powerful device that will be a better fit for users who do not want a bigger phone. The display will be a 4.3-inch 720p HD resolution screen, down from the 5-inch 1080p resolution full HD display. The battery is slightly smaller as well, but the smaller screen with less pixels to push may still give the Mini a good battery life.
Both devices will have 2 GB of RAM for powerful multitasking.

As an Amazon Associate I earn from qualifying purchases.