Why You Don't Need a Tablet from a Tablet Lover's Perspective
Let's get one thing straight. I am not just a fan of Tablets. I adore Tablets. I have for quite some time now. I've used many different kinds of Tablets and still do. I've used slates. I've used convertibles. I've used hybrids. I've used every digitizer and capacitive screen that there is. I've used good ones and I've suffered with the bad ones. I've used large ones, medium sized ones, and small ones. I've used them with a keyboard and I've used them without. I plan on using many more in the future. So, before you say Crocker's off his rocker, or he's been taken over by some evil spirit, or just had too many Christmas spirits, I have decidedly not  turned into some sort of evil twin by making the suggestion that appears in the title of this post. (For the record I may be off my rocker, but that has nothing to do with Tablets.) But, to be honest, to be fair, and to be, well, a bit provocative, no one really needs a Tablet of any make, any model, or any price point. There I said it. Now, here's why I think that you don't need a Tablet.
Setting aside the fact that there are lots of things we want and use in our existence that we don't need, there is nothing, except playing a few games designed specifically for Tablets, that you can't do on some other device or in some other fashion. Let's take a look at some examples:
Create a document.
Play games.
Use a mutli-touch screen.
Watch a Movie or TV show.
Listen to music.
Edit a PDF.
Send an email.
Browse the web.
Map a Trip.
Check the weather.
Read a book.
Connect via Skype or FaceTime
Instant Message
Set up a Reminder
Use a Calendar
Take a picture or video
Edit a picture or video
Make a mindmap
Create a song
The list could go on and on. You can apparently even use them to get a haircut. And you can do each of those things listed above on a Tablet but also on other devices, some of which aren't even computers. Here are some Tablet negatives.
The screens are fingerprint and germ magnets. They have to be cleaned all the time.
Kids (and adults) can become lost in games and books with a Tablet instead of socializing.
You need a keyboard to get any real work done on a Tablet and they all cost extra. Real computers come with keyboards.
Virtual keyboards on Tablets are just awful. The predictive text won't let me type in swear words.
People who take photos and shoot video with a Tablet look like dorks.
Even lighter Tablets are too heavy to hold in your hand for long periods of time.
Tablet speakers don't produce good quality sound.
Tablets are too big to be used in cars.
You can't make a phone call on a Tablet. Yeah, I can use FaceTime or Skype but you can use those on other devices as well, and well, a phone is a phone. A Tablet is not.
Most Tablets need something to be carried in. Even small ones are too awkward to fit in a pocket.
If Tablets were such great devices why do they make a new one every year?
Each of those complaints have been registered about Tablets from the dawn of the age of Tablets. There's truth behind each and every one of them. But that doesn't seem to stop users from wanting a Tablet. Why is that?
The answer is a simple one really. Many of the inhabitants of the real world don't need a full-fledged computer to enjoy using a computing device for their work or pleasure. Those that do have access to a "real" computer. Those who don't prefer something simpler. Apple defined it as the post-PC era. The many different moving parts of mobile technology advanced to a point that these devices became possible to build and market at reasonably affordable price points. And in the relatively short life span of the modern day Tablet that technology has improved significantly with each new generation.
https://youtu.be/o9gLqh8tmPA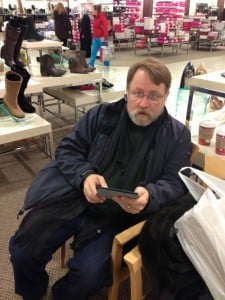 Tablets lifts mobility up and away from the smaller screen smartphones that offer that same kind of computing freedom but with larger displays. It's no accident that larger screen smartphones started to become popular and that the "phablet" smartphone form factor continues to attract consumers.  Users are looking for the perfect mix of computing power and portability that provides them with what they need when they need it in a way that fits there personal needs.
No device, device category, form factor, or display size will ever serve every need. Smartphones have become almost essential for many (not all) in today's world and no longer a luxury. Tablets, on the other hand are not essential, but optional. Tablets offer options that create a personal extension of how we prefer to interact with our computing needs.
I believe that many purchase Tablets because they are the "latest big thing" without really understanding what they will use them for beyond the easy catch phrases. Some of the Tablet sellers haven't even figured it out.
https://youtu.be/Q7xVrI-tUIQ
But, I also believe that like the desktops, laptops, netbooks, and smartphones that preceded them, some users discover ways to use Tablets that those who sell Tablets never envisioned. I would also argue that the very personal nature of these small slabs of glass, metal, and/or plastic helps create a stronger emotional connection than there ever was with a "real computer."  That's intriguing because I think it could also be argued that the physical Tablets themselves could almost be described as disposable devices.
But then that shines the line on the real attraction. It's not the device that delivers the attraction as much as it is the experience that the device allows the user to create for him or her self. Ay, there's the rub, as Shakespeare has Hamlet say in his most famous soliloquy. It's about the user creating experiences and not the designers, developers, and engineers doing it for them. For some that's an obstacle and for some that's a chance to work and play in a dream that doesn't require anything more a device in their hand and in most cases an Internet connection.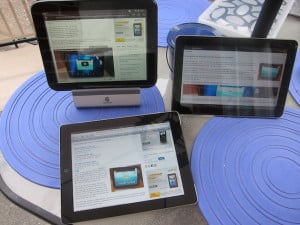 PCs require devoting a section of our living spaces to them. PCs require us to remember to back up our data. PCs have moving parts that have the potential for failure that all devices with moving parts do. Smartphones require a relationship with a carrier. (Some Tablets do as well, but they aren't necessary.) Smaller screened smartphones require us to focus in with intention and purpose on the experience at hand with a degree of intensity that Tablets and some phablets do not.
Now our smartphones and Tablets back up data while we're sleeping to Clouds that we don't have to maintain. Most Tablets can get us well through a busy day without charging a battery. Tablets take up very little space and can be found in any room in the house. We're five generations into the modern age of Tablets and we no longer need to connect them to a computer to set them up or transfer our data to them.  Most Tablets turn on instantly and can be put back to sleep just as quickly.
All of that said, I would still argue that Tablets aren't essential and that you don't need one if you want to do some personal computing. But, I would also offer that some of the pleasures in life that we derive from "things" come from "things" that are equally non-essential. Am I saying that Tablets are a luxury? For some probably so. You don't need a Tablet. But having one gives you a shot at creating a small sliver of a place for yourself on your terms, in a world that increasingly demands we pay attention electronically to the world around us.
Here's hoping you get the Tablet of your dreams this Christmas.

As an Amazon Associate I earn from qualifying purchases.