Don't Want Newsstand? Too bad
When you load up iOS 5 on your iPhone or iPhone 4S on October 12th, you'll be welcomed with a new icon on your home screen for Newstand.
Newsstand is a new feature in iOS 5 that collects all of your magazine and newspaper subscriptions, and puts them on a magazine rack on your home screen.
This will interface with apps, including Conde Nast publications, to give you easy access to your favorite periodicals.
The Newsstand app isn't just an app, it is actually a folder. This means when you tap on it, you will get a familiar popout display of your magazines and newspapers.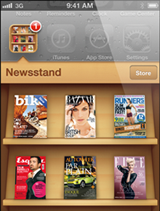 This also means that you cannot get rid of the Newsstand app or hide it in a folder with the other standard iPhone and iPad apps that can't be removed.
Sure, this is a small annoyance, but if you like to keep your screen clear of clutter it can be frustrating.
The only solution is to add another screen of icons to the far right and use it to keep Newsstand out of sight.
Is this an annoyance, or could you care less about Newstand's insistence on staying front and center.
In addition to Newsstand, iOS 5 comes with a collection of hot new features including a revamped notification center, iMessage, Reminders, Photostream, PC free syncingand a better camera app.
Here's a look at the new features in iOS 5 from Apple.
https://www.youtube.com/watch?feature=player_embedded&v=LLJIef-e-7g