DOOM Beta Release: 5 Things to Know
Before the Doom release date comes the Doom beta, a way for gamers to play the content early and help Bethesda stress test the game for problems.
The new Doom is finally coming to the Xbox One, PS4 and PC and it will arrive with an explosive campaign and frenetic multiplayer modes.
As we approach the game's highly anticipated release, Bethesda is finally starting to share some exciting details about the game and about the Doom beta that's set to begin in a few short weeks.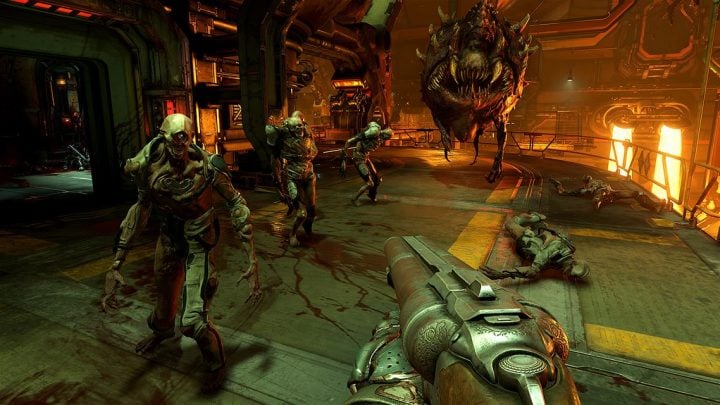 The Doom release date is set for May 13th but you'll be able to play it earlier than that if you get into the closed Doom beta. The beta follows the Doom Alpha that Bethesda launched during the tail end of last year.
Today we want to roundup five of the most important things you need to know about the Doom beta for PS4, Xbox One and PC. Keep these things in mind as we approach the start, and end, of the last testing period.
Doom Beta Release Date
Bethesda's Doom beta will kick off at 10PM Eastern on March 31st several before the game's public release date.
Save the Date: #DOOM's Closed "Wolfenstein" Beta runs Mar 31 – Apr 3. Visit https://t.co/aWseSJLksP #FightLikeHell pic.twitter.com/FWSbm8DH37

— DOOM (@DOOM) March 9, 2016
There is also an end date. Bethesda won't let players continue once it pulls the plug. The plug will be pulled on April 3rd at 11:59PM Eastern.
This gives beta testers a full four days to stress test and report their findings to Bethesda engineers so that they can get to work and finish the game ahead of its release on May 13th.
Can You Play the Doom Beta?
The Doom beta is a closed beta which means that Bethesda isn't offering an open sign up session for beta testers. There are two ways to qualify for the upcoming Doom beta.
Already participated in a #DOOM Alpha? You'll simply need to make sure your build has updated on Mar 31

— DOOM (@DOOM) March 9, 2016
If you took part in the Doom Alpha you will be invited to join the Doom beta. You'll just need to make sure that the build of your game has updated correctly when the beta is released on March 31st. It's as easy as that.
Bethesda is also keeping a promise it made to those that pre-ordered Wolfenstein: The New Order. If you pre-ordered a copy of the game before May 26th 2014, you will gain entry to the Doom beta once it's released.
We don't expect Bethesda to open the Doom beta up to the public. Fortunately, Bethesda is allowing beta testers to share their experiences with the public so you'll likely have access to a ton of gameplay footage during the beta period. The next best thing.
How to Get the Doom Beta
If you picked up a physical copy of Wolfenstein: The New Order, there is a code is located on a red square inside your game's box.
If you're redeeming a code for Xbox One, PC or Xbox 360  you'll want to go to Bethesda's Doom beta site and pick the correct platform.
If you're successful, you'll see a screen like the one below:
If you're redeeming a code for PS4 or PS3, you must redeem your code via your console. Here's how to do that, straight from Bethesda:
PS3:
Open a Sony Entertainment Network account (or login to an existing account).
From the XMB menu, select [Account Management] under PlayStation Network.
Select [Redeem Codes].
Enter the Voucher Code. Please note that the Voucher Code is case sensitive and must be entered exactly as shown.
Confirm the Voucher Code has been entered correctly and then select [Continue] to complete Code redemption on PS3 system.
PS4
Create an online account on your PSN-enabled PlayStation system (or use your existing account).
Select PlayStation Store icon on the PS4 system Home Screen.
On PlayStation Store, select 'Redeem Codes' at the bottom of the menu on PS4 system.
Enter the Code. Please note that the code is case sensitive and must be entered exactly as displayed.
Once the Code has been entered correctly, select 'Continue' on the dialog box to complete Code redemption on PS4 system.
When the Doom beta is ready to go, Bethesda will send you additional instructions about how to proceed.
What's In the Doom Beta
The Doom beta will be focused on the multiplayer portion of the game and not the single-player campaign.
Bethesda notes that it's going to be a limited content and feature set so there will still be some surprises when the game arrives in May.
Here is the full run down of what you can expect from the Doom beta content. It includes two maps and two game modes:
Maps: Heatwave and Infernal
Game Modes: 6v6 Team Deathmatch and Warpath
Demon: Revenant
Weapons: Rocket Launcher, Plasma Rifle, Super Shotgun, Vortex Rifle, Static Rifle, Heavy Assault Rifle, and Lightning Gun
Power Weapons: Gauss Cannon
Equipment: Frag Grenade, Personal Teleporter, Siphon Grenade
Doom Beta PC Specs
If you're looking to play the Doom beta on your Windows PC, you'll want to ensure that you meet the minimum requirements. If you don't, you're going to have problems.
Bethesda also notes that the NVIDIA GeForce GTX 750 Ti, and mobile GPUs are not supported by the DOOM Beta.
In order to access the beta, you'll need a Steam account and an internet connection. That shouldn't be a problem for most people.
Doom Beta Minimum Specs (720p)
Windows 7, Windows 8.1, Windows 10 (64-bit versions only)
Intel Core i5-2400 or better / AMD FX-8320 or better
8 GB RAM
NVIDIA GeForce GTX 670 (2GB) or better / AMD Radeon HD 7870 (2GB) or better
Up to 22GB HDD space
Steam account
Broadband internet connection
Doom Beta Recommended Specs (1080p)
Windows 7, Windows 8.1, Windows 10 (64-bit versions only)
Intel Core i7-3770 or better / AMD FX-8350 or better
8GB RAM
NVIDIA GeForce GTX 970 (4GB) or better / AMD Radeon R9 290 (4GB) or better
Up to 22GB HDD space
Steam account
Broadband internet connection

This article may contain affiliate links. Click here for more details.