Downgrading to iOS 8.1 from iOS 8.1.1 No Longer Possible
iOS 8.1.1 was released last month as a minor update for the older iPhone 4s and iPad 2 to improve performance, but if you updated to the new version and wanted to go back, you were able to do so, until today.
Apple has stopped signing iOS 8.1.0, which means that the possibility of downgrading to iOS 8.1.0 from iOS 8.1.1 is no longer. However, the latest version is actually a good one, as it fixes a lot of issues with iOS 8.1.0.
iOS 8.1.1 did patch up the Pangu iOS 8 jailbreak, forcing jailbreakers to stay put on iOS 8.1.1 for now, but just this week a new dev team entered town and released a jailbreak for iOS 8.1.1, meaning that iOS devices running the latest version of iOS could now jailbreak their devices, even those running the iOS 8.2 beta.
It's not uncommon for Apple to leave the signing window open for older iOS updates, and normally, you wouldn't be able to downgrade back down to an older version of iOS, but with Apple keeping iOS 8.1 open for a longer period of time, this allowed users to downgrade if they wanted to.
While iOS 8.1.1 fixes some minor bugs and such, it isn't compatible with Pangu's iOS 8 jailbreak, so if you plan on jailbreaking your iPhone or iPad, it's important that you use TaiG's iOS 8.1.1 jailbreak instead, and we have a handy guide on how to install the iOS 8.1.1 jailbreak.
Many owners of older iPhones have been reporting slowdowns ever since updating to iOS 8, mostly because the latest version of Apple's mobile operating system is aimed at newer devices. The iPhone 4s is the oldest iPhone that iOS 8 supports, so it's no surprise that users who have this phone are complaining about performance, as it was just like this last year when iOS 7 was released for the iPhone 4.
As for what exact performance improvements have arrived with the update, that's not entirely clear, as they're all mostly improvements made in the background, but users should at least look forward to experiencing a much quicker user interface on the older devices when updating to iOS 8.1.1.
Other than performance improvements and bug fixes for the iPhone 4s and the iPad 2, iOS 8.1.1 doesn't seem to offer anything substantial to other devices, making it a rather trivial update for users with newer iOS devices. The update is a crucial one for iPhone 4s and iPad 2 owners, though, so be sure to download and install the update when you get a chance.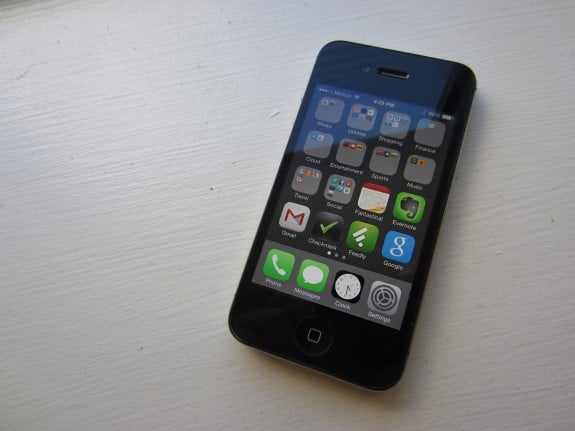 Up until today's update, many iPhone 4s and iPad 2 users have had to put matters into their own gadget-wielding hands in an effort to increase performance on the aging devices. Usually the biggest culprits for sluggish performance on older iPhones are the animations and pretty effects that make iOS 8 look really good.
However, if you have an older iPhone, they're only making things worse. Your iPhone 4s's processor probably can't keep up with everything that's going on, so it's usually a good idea to turn off animations and get rid of those pretty effects.
Even with today's update, we'd recommend changing these settings to speed up your older iDevice.
You can turn off certain features in iOS 8 to improve performance on older iOS devices, like turning off the parallax effect and disabling transparency. Of course, the difference in performance may be negligible, as it's simply an older phone that's reaching the end of its life cycle. However, squeezing as much performance out of it as you can will at least give the device another year or so before you will absolutely need to upgrade to a newer device.

As an Amazon Associate I earn from qualifying purchases.