Dragon Age: Inquisition DLC Amazes, Stuns
Without so much as a warning, Bioware, the video game developer in charge of the Dragon Age franchise, has announced Dragon Age: Inquisition – Jaws of Hakkon. Revealed last night, Jaws of Hakkon is the first downloadable content update for Dragon Age Inquisition and comes packing more than a few surprises.
Bioware officially confirmed the existence of Dragon Age: Inquisition – Jaws of Hakkon late yesterday in a statement to GameInformer. The confirmation came shortly after a site dedicated to showcasing achievements players can earn on Xbox Live revealed what users can expect when they pick up the add-on.
Jaws of Hakkon adds a new location to the world in-game continent of Thetas. In this new area, players find out more about their predecessor, the last Inquisitor. Jaws of Hakkon is part story-mode extension and part expansion. The new area added with downloadable content includes a new enemy type, legendary armor and a new high dragon that is somehow connected to the story. A description on Microsoft's Xbox website indicates that also included in the downloadable content are new missions for the War Table, a staple of the main game.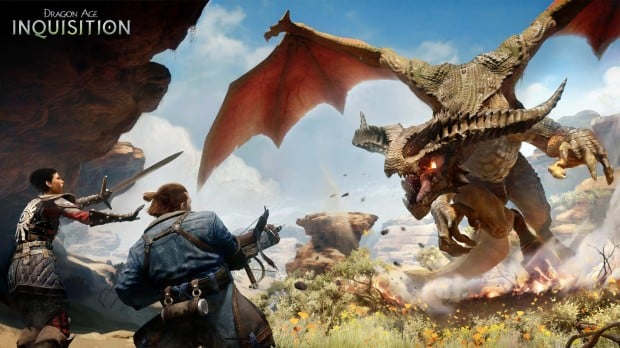 Dragon Age: Inquisition – Jaws of Hakkon costs $14.99. Originally, the add-on was scheduled to launch in the Xbox Store and in Origin today. However, a technical glitch on Xbox Live meant that anyone and everyone could purchase the add-on last night. Bioware is still holding the PC launch of Dragon Age: Inquisition – Jaws of Hakkon until some time today. At that point, we should ge a much more granular look at what's included in the update includes. There's also a trailer coming for anyone and everyone to watch.
A new adventure awaits… https://t.co/B8PgTVDkdo #DAIJawsOfHakkon pic.twitter.com/xFdDBsOcfR

— Dragon Age (@dragonage) March 23, 2015
Forget the surprise launch of the Dragon Age: Inquisition downloadable content, what's really attracting strange looks from gaming enthusiasts is what's still missing. In none of their statements about the downloadable content have Bioware or publisher Electronic Arts confirmed a launch date for Dragon Age: Inquisition – Jaws of Hakkon on the PS4. It's hard to imagine that the add-on wouldn't be coming to the PS4 version of the game, but why it isn't showing up today remains unclear. Some believe that Microsoft and Electronic Arts signed a deal making new content for the game available first on its platforms before Sony's. In that way, Microsoft can claim that the best place to play Dragon Age: Inquisition is on its platforms.
CONFIRMED: Dragon Age: Inquisition – Jaws of Hakkon DLC releases tomorrow on Xbox One & PC. #DAIJawsOfHakkon

— Dragon Age (@dragonage) March 23, 2015
Since launching last year, Dragon Age: Inquisition has gone on sale a number of times on the Xbox One. At some point digital copies of the game hit as low as $35.99. Those sales, plus these Jaws of Hakkon release details hint at a change in relationship for Microsoft and Electronic Arts. That makes sense as the Xbox One is the only current-generation video game console to offer EA Access. EA Access is the new subscription service that lets gamers digitally rent some of Electronic Arts most popular games for $4.99 or $29.99 a year. When EA Access debuted on the Xbox One, Sony confirmed that it turned the subscription service down because it didn't offer a lot of value for its customers. It's more likely that Sony saw EA Access for what it was: a competitor to its own PlayStation Now streaming service.
On the Xbox One, downloading Jaws of Hakkon will require roughly 1.5GB of free space. The page for that add-on on Microsoft's Xbox website hints at the add-on being "Better With EA Access." In this case, it's because anyone with an EA Access subscription gets games and add-ons published by Electronic Ars for a ten percent discount.

This article may contain affiliate links. Click here for more details.